Want to take better pictures? Here's the simplest truism that most photogs know: understand hardly anything affects your photos as much as light. That's it. Class dismissed. Wait..not yet. Light will set mood, change a scene, and give shaper photos, to name a few. It's why we harp on about light modifiers, spend fortunes on speedlights, and greater ones on fast lenses. Enter Kick. Constant lighting is growing more popular and it won't likely stop. Portable LED lighting devices are now commonplace, though most tend to be rubbish unless you're looking for a wallet shrivelling exchange. Rift Labs' Kick is a portable, phone sized RGB LED lighting 'studio' that's going to upgrade your instagram, party, and pet photos, and even add a little something for the more serious shooters.
Fertilized in the womb of Kickstarter, Kick is currently out available for purchase…when it's in stock. As illustrated from the photo, Kick is simple in form factor with the standard grid of LEDs covered in little lenses. You can slide your phone right on the back of it and at this size it's not a burden.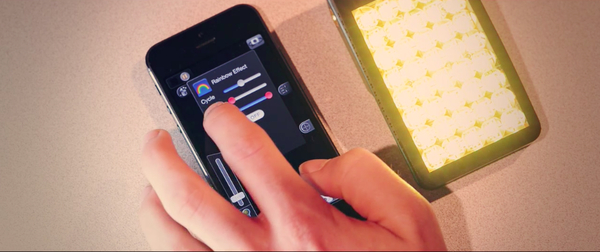 Screen cap courtesy of Rift Video
[REWIND: Bright Lights! Switronix TorchLED Bolt – Rapid Gear Review]
At 150g it weighs little yet its 400 lumen output at 5400 Kelvin is not. It's capabilities really lay within its iPhone and Android apps. Your phone and Kick can be paired with the touch of a button and the app allows for a wide array of possibilities. You are able to change power output, temp, and colour right from the app. The wow factor arrives when you consider that you can point your device to a light source and the app will tell the Kick to take on the properties of that light, allowing you to match light closely, whether that light may be a white strobe, rainbow, or a dancing candle flame.
Tech Specs: From Rift
White light continously adjustable from warm to cool light (2500 to 10000 Kelvin)
Full color light continously adjustable (via iOS or Android app)
Animated light (via iOS or Android app)
400 Lumen output at 5400 Kelvin
Wide beam angle (Directivity 60 degree 2θ ½) using custom optics
802.11b/g Wi-Fi (2.4GHz)
Support for Soft AP
Li-Ion Polymer battery 3.7V, 2000 mAh (7.5 Wh)
The battery is charged by connecting a USB charger to the USB input
Thoughts
At $149 USD, it's not particularly inexpensive especially when considering it's currently geared more towards a casual shooter. That said however, lighting options are always pricey and not typically as versatile. We recently reviewed the Switronix TorchLED Bolt which we liked a lot that which worked even in the day. But at twice the size, many times the weight, and more than double the price it's aimed at a different market. Kick, at its power output and size, would probably prove best in an environment that's not well lit, though may actually be useable for fill or accent lights close in portraits or the like.
I would think that this does in fact have uses for the amateur, enthusiast, and even a little for the pro. To be clear, and by Rift's own admission, pros wouldn't be substituting main lights but it could fit in somewhere. Videographers I think would do well with something like this, and really, for most Phoneographers who want to boost their photos I think it's a great addition and a lot of fun can be had with it. Take a look at the video and specs below, and on Rift's site. What do you think of it? How could it be better and would you buy one? Better yet, if you have one shoot us over something you've shot with it!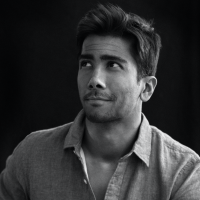 Kishore Sawh
A photographer and writer based in Miami, he can often be found at dog parks, and airports in London and Toronto. He is also a tremendous fan of flossing and the happiest guy around when the company's good.