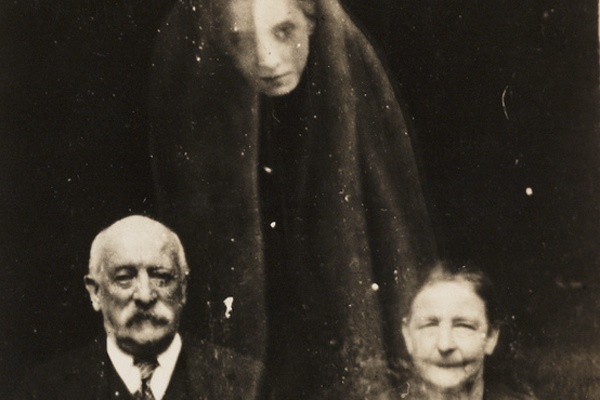 In the early 1900's, UK medium, William Hope garnered fame and controversy from his claims that he could capture images of spirits on camera. To some, he was a master at summoning the dead onto photographic plates. To others, he was a fraud who used double exposure to trick his clients.
He went on to form the Crewe Circle, a group of spirit photographers and in 1922 became a professional medium.  Even with the claims of fraud surrounding him, Hope maintained a devoted following until his death in 1933.
Whether the act of vintage Photoshop or some other explanation, these eerie and bizarre images are fun to look at and perfect to ring in the month of October.
An Elderly Couple with a Female "Spirit"
A Clergyman and Two "Spirits"
"The clergyman and his wife had attended a seance at which a voice was heard, claiming to be their stillborn daughter – whom the 'spirit people' had named Rose. The voice asked them to sit for a psychic photograph, telling them she would try to appear in it.
'Rose' is not clearly apparent in the image. The image of the man was identified as the long-deceased father of the clergyman. Hope may have asked the clergyman to bring a photograph of his father, under the pretense of using the image to contact the spirit world."
 Three Elderly People With Two "Spirits"
Couple with a Female "Spirit"
"A woman's face appears above the couple – identified at the time as the sister of a man prominent in the Spiritualist Church. Her cloak adds to the ethereal effect.
The signature in the upper left hand corner is by one of the sitters, to authenticate the plate. The couple are the parents of the person who compiled the spirit album."
Man with the "Spirit" of his Deceased Wife
"A woman's face appears in a 'misty' cloud to the right of the man – identified as that of his deceased first wife. Hope may have already held her photograph in his studio, or he may have asked the man to supply her photograph under the pretense of using the image to contact the spirit world.
The signature in the upper left hand corner is the sitter's, authenticating the plate."
Couple with a "Spirit" in Car
"Two of William Hope's friends lean on their motor car whilst a figure – the couple's deceased son – is revealed at the wheel. Hope had suggested a photo opportunity for the 'chance' of obtaining a spirit impression."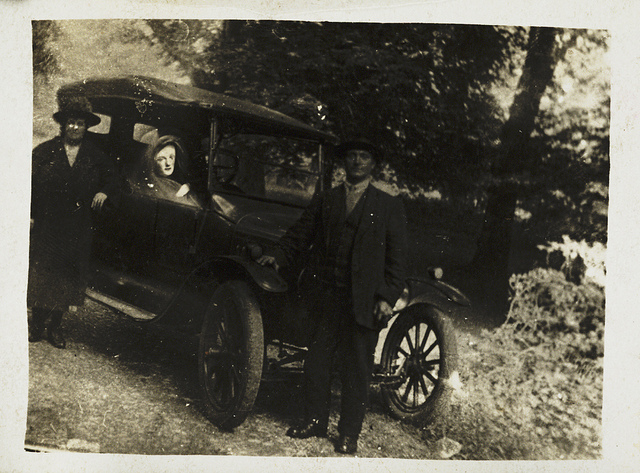 (via @buzzfeed/Images via @National Media Musuem)
Hanssie
Hanssie is a Southern California-based writer and sometimes portrait and wedding photographer. In her free time, she homeschools, works out, rescues dogs and works in marketing for SLR Lounge. She also blogs about her adventures and about fitness when she's not sick of writing so much. Check out her work and her blog at
www.hanssie.com
. Follow her on
Instagram