Fashion photography, simply put, is so much fun. It is a genre where breaking the rules is not only accepted, but it is encouraged. The term "fashion photographer" is a very sought after title and only a coveted group of photographers are lucky enough to have their images grace the glossy pages of mainstream magazines on the newsstands. That type of success doesn't happen overnight, and more often than not, the photographers whose images  are seen on the covers arrived at that success after decades of a career.
Gear: Canon 5D Mark III, Canon 85mm 1.2L II
Tech Specs: ISO 160, f/7.1, 1/1000 of a second
When choosing to become a fashion photographer, it is important to realize that there is no road map on how to get there within a specific timeframe. There is not a how-to guide for success either. Some photographers hit their break early on while others have been working at this for years and keep doing it for the sheer love of the art. What worked for one photographer may not necessarily work for another. While it is quite the challenging task to take on, it isn't impossible. There are a few elements that can apply to almost everyone along the way.
It's no secret that New York City, Los Angeles, Paris, and Milan are at the epicenter of the fashion world, so it makes sense to think that in order to shoot fashion one would need to live near one of these areas. That is true for many of the major fashion publications that are widely available at the checkout register today. Fashion, like every other medium of photography, is rapidly evolving. There are so many subcategories to fashion from commercial, beauty, high fashion, avante garde, etc., but with the ever increasing number of relevant independent fashion magazine, photographers are no longer confined geographically.
Gear: Canon 5D Mark III, Canon 85mm 1.2L II
Tech Specs: ISO 800, f/2.8, 1/250 of a second.
Shooting fashion in rural areas is a definite possibility, although it comes with a number of territorial challenges. Primarily, since fashion isn't as relevant outside of the major hubs, the talent a photographer has access to is limited in regard to models, hairstylists, makeup artists and fashion stylists. If the goal is to set foot in one of the capitals, it is of utmost importance to produce the caliber of work that looks like it could have been produced there. If you are lucky enough to live in one of the major cities, however, you will encounter there are a different set of hurdles and the competition is fierce.
Regardless of geographic location, everyone has to start somewhere. Be prepared for a lot of studying, patience, planning and production. The first thing I would recommend doing is to start to develop a book geared toward the work you would like to shoot. It is important that the people you photograph resemble fashion models. Reach out to a friend, or someone who can be a muse, who has a look that you could work with to practice and in turn produce some quality work.
Study anything and everything that you can; research the icons and learn what made them great; study images and attempt to deconstruct them in order to figure out how they were lit. See where the catchlights are and decipher if it is studio or natural light. Use it all as inspiration for your own work. While I maintain that everything has already been done, put your own spin on it rather than directly copy it.
Gear: Canon 5D Mark III, Canon 85mm 1.2L II
Tech Specs: ISO 100, f/2.8, 1/1000 of a second
Don't be afraid to try new things and fail the first time, and be prepared to wear many hats and learn how to man the ship without extra help. That means learning a few things about hair and makeup as well as pulling from existing wardrobes to find an outfit that is fashion forward. Without the pressure of having to succeed, creativity comes alive, so contact local hairstylists and makeup artists who are starting to develop a fashion portfolio and ask if they would be willing to collaborate with you. Some of the best teams start this way. If you are lucky, the person acting as your model will have an amazing wardrobe to start with but also be prepared to act as fashion stylist extraordinaire in the meantime.
Once a book starts to develop, reach out to local boutiques and see if they may be willing to loan some clothing in exchange for images they can use on social media. All of this is known as TFP, or trade/time for print. As long as everyone has something to gain from this agreement, it can be an arrangement that's great for all involved and helps to get to that next step.
Gear: Canon 5D Mark III, Canon 85mm 1.2L II, Profoto D1 500
Tech Specs: ISO 100, f/14, 1/160 of a second
During all of this, keep studying and practicing, and shoot as much as possible. If there is a workshop that is worthwhile, enroll in it and learn everything that you can and keep in mind it is a long journey, but a fun one at that. Identify and develop a voice to be refined over and over again and keep producing content that improves every time with a good team and you can all help each other get to that next step.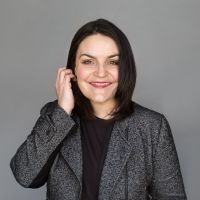 Brittany Smith
Brittany is a fashion and beauty photographer who works between NYC, Montana and LA. She photographs the way she has always wanted to feel and believes in the power of raw simplicity. When not behind a camera she can usually be found at a local coffeeshop, teaching fitness classes at the YMCA, or baking something fabulous in the kitchen. Instagram: @brittanysmithphoto