It's one of the biggest days in a girl's life, one that most dream about from the first time they see Prince Charming lead Cinderella in her wedding dress from the castle while the words, "and they lived happily ever after…" scroll up the screen.
It is estimated that in the U.S. the average couple spends $26,000 on the wedding day, and the day comes so fast, and then it's gone. All that is left are some extra party favors; the top of the cake that will be pretty stale in a year no matter how tightly you wrap it; your wedding photos, and if you hired a videographer, a wedding video.
In a recent article on Brides.com, "5 Unique Alternatives to the Traditional Wedding Videographer," the author gives some recommendations if a bride doesn't want or cannot afford to hire a wedding videographer. Among the suggestions are to give GoPros to some trusted people (or the dog); to invite people to record and post on Instagram, or use an app to stitch together the photos and snippets from the day to make a DIY wedding video/slideshow.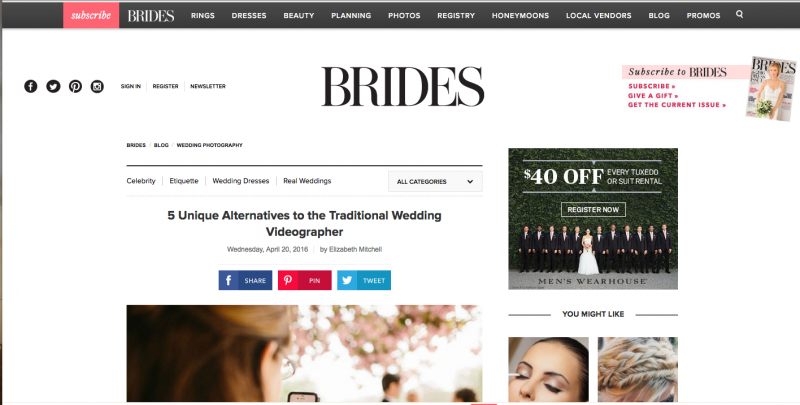 Though these are good ideas, there really is nothing like hiring a professional to record what is arguably one of the most important days of your life. While it's understandable that Brides.com wants to give budget-friendly options in lieu of hiring a videographer, the wish would be for these types of publications to spend more time educating their brides on why hiring professionals to document a wedding day is important.
Earlier this year, Vogue Magazine suggested that modern brides should say, "I Don't" to a professional wedding photographer, and put disposable cameras on the tables instead. (Sure, if you want brides to have out-of-focus drunken selfies of all of their friends).
Now, don't get me wrong, we all love a DIY project, but there are some things that just shouldn't be do-it-yourself. Root canals, for example. Those should be done by a professional endodontist. Open heart surgery should be the work of a certified heart surgeon with a medical license. Though I'm clearly pointing out some extreme examples that are by no means equivalent, leaving a wedding day to be documented by people who are barely capable of using their iPhones to take a photo or video borders on terrible advice.
Of course, there may be brides and grooms who couldn't care less about remembering their wedding day with any physical documentation, but an overwhelming majority prefer to have beautiful, professional images and footage of a day where they are surrounded by loved ones; a day they have spent a considerable amount of time planning and dreaming about.
I know that I am preaching to the choir here, but as long as there are articles out there encouraging brides to eschew hiring photographers and videographers, we photographers and videographers are forced to be the ones to educate the brides and grooms that will heed their advice and take the DIY route, only to regret it later.
Hanssie
Hanssie is a Southern California-based writer and sometimes portrait and wedding photographer. In her free time, she homeschools, works out, rescues dogs and works in marketing for SLR Lounge. She also blogs about her adventures and about fitness when she's not sick of writing so much. Check out her work and her blog at
www.hanssie.com
. Follow her on
Instagram