There's been a bit of a bumper crop of news lately on the 'big data' material that can be extracted from photography. How patterns in how we go about photographing, what we shoot, and when,  tell us about ourselves as individuals, a culture, perhaps even as a species. I recently wrote about an upcoming film called Brave New Camera that delighted in discussing this very topic and it made clear that photography has a lot more to tell us about ourselves than just what is captured in a frame.
A number of years ago, Eric Fischer created the Geotaggers' World Atlas project that showed where photos were taken in major spots around the world using heat maps whose data was mined from Flickr and Picasa images. It was fascinating to see. Then he took it a step further with Locals & Tourists, where the maps distinguished between photos by locals and those of a more transitory nature. This dispelled the belief held by some that all the original maps did was show where the tourist spots were.
Now, the relentless march of progress in technology has allowed Fischer to turn the Geotaggers' World Atlas into an interactive venture that covers just about every city on the planet and the photographic activity in the region for the past decade. It's a veritable mountain of data expressed in an easy to understand visual experience, shown by lines that denote the paths photographers took, and at what pace they travelled.
Aside from being a social experiment and something worth anyone's time to check out, it's certainly valuable to photographers and travelers to see where the more interesting places in any given location tend to be. It's easy to go somewhere and hit all the major spots, but with this information, you can really navigate a location and discover new streets, neighborhoods, nooks and crannies that are quite off the paths that get the press. It's quite brilliant really, and certainly worth bookmarking, so you keep it with you next time you're out, well, anywhere.
Here are some example spots, but see the full map here.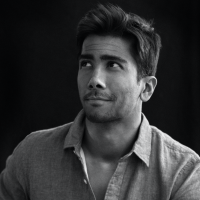 Kishore Sawh
A photographer and writer based in Miami, he can often be found at dog parks, and airports in London and Toronto. He is also a tremendous fan of flossing and the happiest guy around when the company's good.