We're at PhotoPlus in NYC and it's better than ever. There's so much to see, and so much do, but we'll be bringing you some of the best and most interesting pieces from the show, and G-Tech had on display some of their newest and coolest offerings.
When it comes to G-Tech's storage solutions for the creative professional, they offer a wide portfolio of products, with everything from portable 2.5 inch drives to network attached systems stacked with 120 TB of storage capacity. Now that they are part of a Western Digital's powerhouse, the future of hard drive technology and solution options are endless.
Mobile Storage Solutions
At this year's Photo Plus Expo, G-Tech exhibited a rose gold rendition of their portable G-Drive Mobile USB-C, claiming to mirror colors that support the ecosystem the photography world is most familiar with, Apple. The G-Drive Mobile comes in space grey, silver, gold, and now rose gold to match MacBook Pro color options.
G-Tech announced the integration of USB-C solutions into their product line earlier this year, and moving forward they plan on better integrating newer interfaces that will come with the next generation of computer systems. USB 3.0/2.0 options are still available for the same 1 TB storage, and retailing at $119.95 with a transfer rate up to 136 MB/s, this drive is likely to become an essential for the working, on-the-go photographer.
An alternative is the G-DRIVE slim SSD USB-C, delivering super-fast SSD performance and a speedy 10GB/s USB-C (USB 3.1 Gen 2) interface connection for lightning fast transfers of your precious videos, photos, music and more. While the G-Drive Mobile has the color variety, the slim SSD transfers at a rate of 540 MB/s
Storage for Video
Although G-Tech primarily focuses on the photography market with single-user and studio storage options, they haven't forgotten about video. The G-Rack, also known as a Network Attached Storage Solution (NASS), is the messiah for high performance, centralized storage. Designed for media and entertainment workflows, the G-Rack packs 120 TB of total storage capacity that can be expanded to 4 additional expansion chests and half a petabyte of storage.
With so many updates, G-Tech continues to give creatives and content creators a quick & efficient workflow for archiving and editing.
Stay tuned for more of PPE 2016 coverage!
A big thank you to our sponsors, B&H Photo, for making this trip to Photo Plus Expo 2016 possible!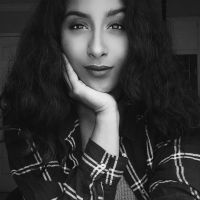 Shivani Reddy
Shivani wants to live in a world where laughter is the cure to pretty much everything. Since she can't claim "Serial Bingewatcher" as an occupation, she'll settle for wedding/portrait photographer at Lin and Jirsa & marketing coordinator here at SLR Lounge. For those rare moments when you won't find a camera in her hand, she will be dancing, eating a donut, or most likely watching Seinfeld. Follow her on Instagram:
@shivalry_inc