G-Technology is a premium storage service for audio and video production, with services that range from storing, transferring, editing, and distributing. Today, the award-winning company that has partnered with names such as RED Camera, announces an expansion of it's G-Rack and 'ev' Series along with new products and features such as CFAST 2.0 and the Atomos integrated Master Caddy HD & Master Caddy 4K.
the master caddy's
The Master Caddy HD features a 7,200 RPM hard drive with 1TB of storage, capable of editing and recording in 1080p resolution. The Master Caddy 4K features a 256GB, 512GB, and 1TB solid-state drive. The MC-4K, however, can support a transfer rate of 500/MB/s, as opposed to the MC-HD, which clocks in at 136 MB/s.
Both Master Caddys are fully compatible with not only the Atomos Master Caddy system (in which you can take advantage of the G-tech hard drives) but also the newly announced ev Series Reader Atomos Master Caddy Edition, which allows for flexibility in choice for hard drives.
If choosing the Atomos Master Caddy system, however, features such as drive labeling, Qr code label support that enables tracking for both hardware and content on it, and USB-C ports exist. Backwards compatibility is available as well with the standard A-type USB 3.0 port. These drives, along with the Master Caddy, will all be available later this month with the MC-HD starting at $99.95 and the MC-4K starting at $149.95.
CFAST2.0
Faster is always better, especially when dealing with data storage. With CFAST already being an industry standard adopted by companies such as Canon and BlackMagic, CFAST 2.0 features usage with ev Docks or as a standalone reader.
G-Tech promises that using their readers will result in the best performance possible with CFAST cards, even with its backwards compatibility with CFAST 1.0. The CFAST 2.0 ev Series Reader will ship this month for $99.95.
G-RACK 12 UPDATES
The expansion of units in a G-Rack 12 brings just what one might expect, both capacity and performance improvements. The G-Rack, which is a network-attached storage (NAS), has two main units: the main server unit & expansion chassis. Although, originally with just one expansion chassis, now with the G-Rack 12, there are four, for a total of 500TB worth of storage and RAID 6 protection.
With so many updates, G-Tech continues to give creatives and content creators a  fast workflow for archiving and editing. Their new updates to G-Drive ev Raw, which is it's 2 TB option, is a slightly thicker drive, meaning it won't fit in ev ATC cases. It will, however, be usable with all other ev-Series products including ev Docks.
What are your thoughts on these updates? Do you find the prices worth it? If you're reluctant to even try it, why? Let us know in the comments below. And make sure, if you haven't, check out Photography 101, where we teach how to get professional style photos using kit lenses and camera bodies.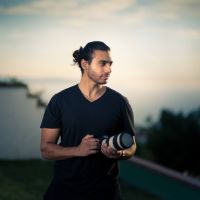 Bilal Akhtar
Bilal Akhtar is a 27-year-old LA native, who, when not taking photos, is using music, photography, and storytelling to create elemental art: www.instagram.com/theelementalarts To see his work, visit his commercial and wedding portfolios: | https://bilal.myportfolio.com | www.momentsbybilal.com | www.instagram.com/momentsbybilal www.facebook.com/momentsbybilal