Stepping Into Album Design
My history in album design goes as follows:
First, I bought templates for Photoshop and never used them because the orientation and number of spots was frustrating and limiting. Next, I created templates myself … for every album, then never re-used those templates again.
A year later, I discovered In Design and was thrilled with its flexibility and ease of use. I took a couple of classes and got even better. Even so, it was more efficient than Photoshop, but still a time consuming process and not one that I was fond of. If you're not meticulous and precise, you could have inconsistent spacing between images, misaligned margins, etc. So, we hired a graphic designer to take over our album designs. It cost a bit of money, but I had my time and sanity back.
[REWIND: Photoshop vs InDesign for Album Design]
Finding Fundy For Photoshop
A friend told me about Fundy (a Photoshop album design plugin). I ignored them. Change is hard, learning curves are time consuming, we already outsourced our album design, and it's Photoshop related – a path I already explored and left behind. A year later, I walked by the Fundy booth at WPPI and I was floored. The Photoshop plugin I had previously ignored was amazing! I had our team purchase a copy on the spot. The purchase cost was well worth the amount of time savings and we could stop paying out for the expensive album design fee. That was Fundy version 5. What the guys at Fundy did was take the strong points of In Design, the fundamental needs of album design, added a few more essential ingredients, and merge it into one beautiful plugin for Photoshop. It was genius! I could have been skating through album design four versions ago and I was kicking myself.
[REWIND: 5 Tips To Have A Successful WPPI Experience]
The Standalone Software
Earlier this year the guys at Fundy announced a standalone software to take over the album design process. Album Designer version 6 is free of Photoshop and a revolutionary approach to design. I couldn't imagine how much more they could improve what they already had. I signed up for the beta and took the new software for a spin. I have to say, I love it.
Andrew Funderburg, owner of Fundy, walked me through the basic premise behind version 6. He felt that the industry, in general, had been doing a backwards approach to album design this whole time. Creating templates and putting images into the spots was like putting pegs into holes instead of letting the images dictate the design. I couldn't agree more, but honestly, I couldn't say what was wrong until now. This application has opened my eyes to a much better way to design. To quote Andrew, "we didn't want to change the game. We wanted to play a completely different one." This outside the box mentality has carved a new path to design and it's exciting.
Introducing A Revolutionary Approach
The core of the application pivots around a drag-and-drop auto designer featuring Drop Zones™. You select your images to fit into what is essentially an elastic box. You control the size and the dimensions of the box with a simple drag of the mouse. The images in the box resize, reconfigure and reorganize automatically. Want to add or remove images? Just drag them into or out of the Drop Zone™ and they take care of themselves. Want to get creative without extra work? The quick design picker gives you 12 layout alternatives to choose from and the ability to rearrange images in your selected layout with the click of the mouse. Want to have more control of the Drop Zone™ area? Switch over to Design View and control the details to your heart's content. I can add text, change background colors, play with opacity, zoom, send an image back to an editing software, and so much more. Exporting to jpegs is a cinch. Defining album size is a simple selection from a huge list of all your favorite album companies or a quick entry of your own custom size. I barely watched the tutorials. I wanted to see how intuitive the software was. It took a couple of rounds to get the hang of it. There are bugs, which is to be expected, I'm playing with the beta and first deployment after all. But I designed a 72 page album of 200 images without blood, sweat or tears. What a sigh of relief!
[REWIND: 5 Keys To A Modern Album Design]
Conclusion
Fundy has a road map of improvements and enhancements posted on their site and it looks like they've accounted for the large majority of my concerns. It's absolutely usable now and if you've never been on Fundy, it's a huge improvement from whatever you're using. It's a tad expensive if you're a first time buyer, but it's worth every cent of $329. Upgrades from a previous version gives you a large discount. I'm feeling that Album Builder v6 warrants 5 stars once all the bugs are worked out and I can't wait to see what it looks like by May. For now, I'm giving it 4 out of 5 stars.
[PRODUCT HIGHLIGHT: Make the most of your time, master Lightroom 5 with this comprehensive tutorial Lightroom Image Processing Mastery v5]
If you're headed to WPPI, you should stop by their booth and check out the demo or download the free trial from their website.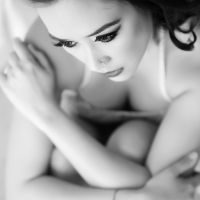 Michelle Ford
Michelle is a Southern California Portrait and Wedding Photographer. When she's not geeking out with a camera she's nerding out in her IT world. All other moments in the day are spent with her two wonderful children. See her work on
The COCO Gallery
check out her blog at
frexNgrin