London Fashion week is the epicenter for thousands of designers, students, fashion houses, magazines, buyers, stylists, photographers and bloggers. LFW plays a central and prominent role in a £26 billion industry to the UK alone each year. Globally, it is worth  $1.5 trillion dollars each year.
During the shows each season (AW- Autum / Winter & SS Spring/Summer), an army of media outlets descend on Somerset House and the surrounding areas in a feeding frenzy, a race to deliver content to the waiting global audience. It is no wonder that this clash of business and celebrity creates one of the most intensely covered events in the Fashion calendar.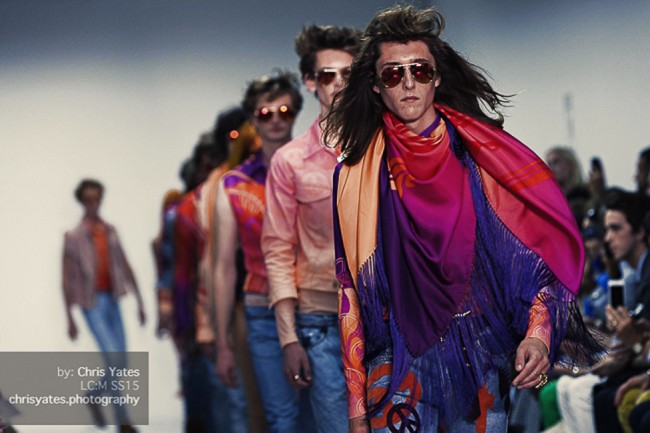 We speak to UK based Photographer Chris Yates about what it is like to be on the front line during the these media events where time is counted to the milliseconds, equipment is tested to the breaking point and getting your spot is all about who you know and who you are working for.
Fashion photography is a huge genre with many sub genres – Catwalk photography being just one of them. What are your clients looking for when photographing a catwalk and how is different from a fashion shoot?
On a normal fashion shoot in the studio or on location, you have one thing on your side, which is a bit of flexibility with time. On the show days, that luxury is removed and the main aspect is the clock is ticking as the soon as you press the shutter to having the content delivered and uploaded on your clients publication either via FTP or form of transfer. In essence, the client will look for image quality and the delivery time as they have calls for press content almost immediately as the show is over. Nowadays also everyone in the front audience has a camera. Their content is automatically uploaded there and then across social media platforms and online straight away.
You pretty much have to get all your settings spot on in-camera prior to the show as the clock is ticking as soon as the show is over for you to deliver content. You need to deliver at least one full length shot, a detail close up and even going away shots and there is no rerun! You need to get the shot with no excuses. I've had calls from PR's post show asking for images with their tail between their legs as their shooters kit has failed. It's a position you don't want to be in, but happens.
What exactly is it like to shoot at London Fashion Week? Where are the biggest challenges?  What are the things to look out for ?
First of all, it's about the preparation and knowing what you are going to shoot and for whom. Preparation for the seasons shows, be it Autumn/Winter (AW) or Spring/ Summer (SS), starts a good couple of months prior with the original commissioning and the priority of the coverage. The shows consist of a few main schedules, the 'big guns'. Top designers, the official British Fashion Council (BFC) schedule, the 'Off Schedule' shows, Fashion Scout, etc. and any other shows or presentations that pop up in and around the program. Which do you cover, who is who? Who are the ones to watch and cover? Will you be able to logistically?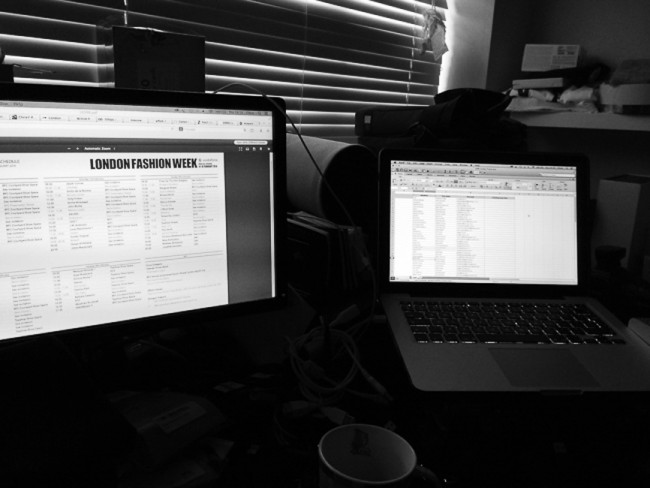 Before you get too carried away, you have to apply to the relevant designer PR's to request accreditation, which you would think was a simple process. No, who you are and whom you are representing plays a huge part of IF you will be granted any accreditation. You really also need to track your provisional schedule from the get go! Imagine from a PR's perspective how may requests they receive from Press/Photographers/Bloggers etc. You may apply to attend a show and get no reply; you may get the proverbial 'Limited capacity this season' (which means a big fat no) or a reply of 'sure thing'.
It's not just about turning up on show day with your camera. No, first of all you are in the same boat as many others of the world's media outlets and where you stand or sit; to take your pictures happens the day prior to any show. The 'Mark Up' process is technically a fair process of where, if you are there to reserve your spot, you then have claim for that spot for the duration. If you don't get down to mark up, unlucky! You will more than likely get the worst spot, if any. You really need to factor in a full day to do this as you are also in a queue to even get into the show space to 'Mark Up' your space. It's also a great opportunity to get to meet fellow photographers again and chew the fat over things while you're waiting.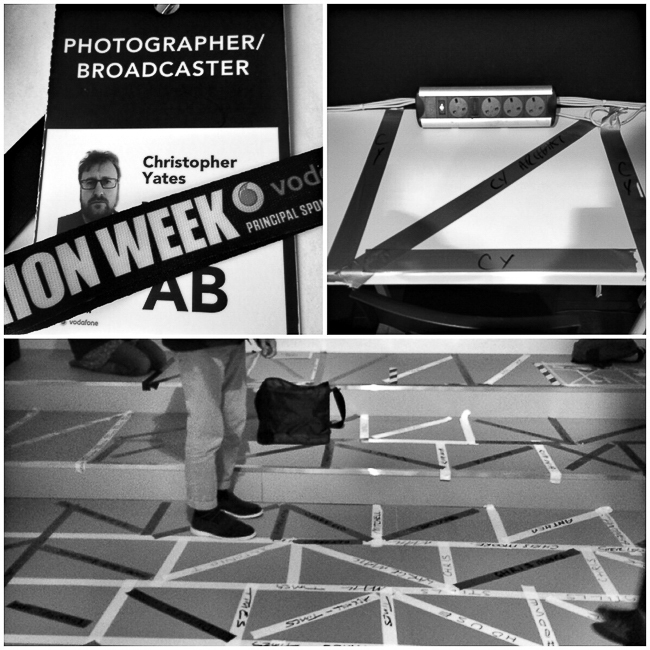 Then it's your turn to go in and see what is left after the main agency players have been in and have practically taken the whole space, decision time, upper riser, lower riser, think quick as someone behind you has their eye on the same space! One thing to think about is if you're on the fourth riser on the centre line, what are you images going to look like? Will you need a 300mm to give that extra reach, but will also limit your framing? All this is going through your mind whilst getting your gaffer tape and marker pen out!
The one thing to also do here is take a picture of your mark up! It has been known for tape to 'disappear' so it will also aid in 'conversations' down the line.
It all looks so sparse at this time, but you will end up like sardines as soon as the lights are down for the first show! All of your logistics have to be taken into account too – you need to get there, you need to eat, and oh yes, and work! (Hard)…
Talk us though your set up and workflow. Do you have any tips for people starting out and go-to tips about kit?
When I edit images from a fashion shoot, I always use Photoshop after I have imported the content and viewed it in Bridge and worked on an image one by one. For Catwalk, I use Lightroom. Having your settings right in camera from the get go will save you valuable time in editing post show.
Literally, as soon as the show is over, you're plugging your card into your machine to back up and work on the content. Prior to the shows, I have listed certain data in my show excel sheet that I can just paste into the image details and to make the export process even more slick. I have settings pre-registered for certain shows so the most I am doing is perhaps a quick crop, then export with the aim to deliver the content within an hour of the show finishing. Naturally, this cannot be done all the time due to travel across town or you are going directly into the next show or you may be shooting backstage for the next show. There is no time to sit there twiddling your thumbs as you have images to deliver.
Kit wise, it really has to be on form. Your gear is going to take a beating for a solid six days of shooting and checking it prior will naturally prevent failure on the day. It's always worth making sure your peripherals are up to speed; Batteries, if they have been glitchy, get them replaced. Memory cards and HDD's, if they are showing any signs of blanking, bin them. Testing everything a good few weeks out will shake any cobwebs out and certainly worth finding out prior so you can get it replaced!
I use two bodies, a Canon 1DX with either an EF70-200mm 2.8L IS MKII USM or an EF 300mm 2.8L IS MKII USM as the main shooter on a Gitzo Monopod and a Canon 5D Mark III with either an EF24-70mm 2.8L USM or now the EF16-35mm F4 IS USM as a wide option. Both mounted with an offset bracket and hot-shoe cord for front row shots prior to the show.
You may have a certain celebrity personality at the show and getting some audience shots prior, which adds to your coverage. Another important piece of kit is a set of solid steps or something else robust enough to stand on for elevation. Your freight/ Peli case also comes in handy! (Peli 1510)
Your IT skills need to be slick! If you're a MAC or PC user, you need to know what you are doing with your software prior to going on site. Things like a sluggish laptop will cost you time and you will be cursing! Take a back up HDD of at least 1TB. All of this can be done prior to the shows and unfortunately, your pals may not have time to help you as they will have their own deadlines to fulfill! From my point of view, home is way up the train line, you have to do the job with what you have with you. Also, you may be traveling to Paris/Milan, etc. If your kit goes down, you are really in trouble if you haven't checked the basics, even things like FTP, login, etc.
How do you find your clients? Do you have any tips to stand out from the crowd?
Clients vary for the fashion shows; you may be working as a shooter for an agency, a magazine shooter or for the brand. If you want to stand out from the crowd, you have to be prepared to work your backside off and show you can deliver quality content in a very timely manner. Everyone is a photographer nowadays at either London Fashion Week or London Collections Men – shooting everything from Catwalk to backstage to 'Street – Style' (aka shooting anyone on the curbside). If you are offered a chance to be a runner for a photographer, take up the chance, as that will be your only on the job training you will get!
To see more of Chris Yates' work:
Web – http://chrisyates.photography/
Twitter – https://twitter.com/CYPhotographer
Instagram – http://instagram.com/chrisyphotography
Dave Kai Piper
Founder of Ideas & images Dave Kai Piper is a fashion based imagemaker and retoucher from the UK. Ideas and Images works with small to large businesses in the photographic & fashion markets. Fuji X-Photographer & Adobe Community Pro. http://www.ideasandimages.co.uk/