While this strange time continues to challenge us and our careers, we find ourselves asking how we can use this period of struggle to grow and challenge ourselves to become better people & photographers. We often forget how simple our beginnings were: picking up a camera and photographing anything and everything we could find to slowly master and understand the art. Three photographers came together to find a sense of purpose in a confusing and anxious time and created an online safe haven and resource for photographers wanting to continue their growth during a stagnant period.
The FOFC Social Distancing Club is a group project for documentary photographers from all over the world to practice photography by documenting their stories during social distancing. Founders Ilana Natasha Bar-Av, Danny Klimetz, and Priyanca Rao met at the Friends of Fearless Conference (FOFC) that created this project in hopes to provide "sanity through community" with daily critiques and virtual roundtables. We interviewed one of the founders, Priyanca, to find out more about their project and how they are navigating social distancing.

What prompted you to start this photography group?
"This is my very first introduction to the term 'social distancing' because where I am from (NYC) we are quite the opposite – social butterflies! This city thrives on social life – loud bars, crowded parks, and bustling playgrounds. The first few days social distancing felt isolated and purposeless. Listening to the news was depressing, so I focused on expressing how I feel by documenting our new isolated lives. The photos that I shared online with my friends made me realize that were are all in this together, and their support was invaluable. Subsequently, I started a Facebook group called FOFC Social Distancing Club with my friends Ilana Natasha Bar-Av and Danny Klimetz from Friends of Fearless Conference."
What is the intended goal/purpose of this group/project?
"In this group photographers from all over the world can share their social distancing story through photography. We submit a photo every day that is critiqued by two mentors. The mentors change daily, so we can hear many different points of view as well as improve our photography."
What are some of the ways people can participate?
As you scroll through the group feed you find endless inspiration and hope told through the stories of photographers across the globe. Many of us have lost touch with the small joys we had of photographing random objects or our own families and this is an opportunity to spark that creativity once again.
"Ilana and Danny run the support aspect of the group, by organizing online roundtables for photographers that help through this difficult time. So far we have had website critiques, SEO talks and financial advice for our members."
Here are a few images from participants in the group:
Colin Coleman – Website | Instagram (Pennsylvania, USA)
"Because we couldn't go to our families in person and tell them the good news – we decided to Facetime everyone from our living room. This shot, in particular, happened when Molly's Aunt completely freaked out in excitement."
Dan Sauer – Website | Instagram (Florence, Italy)
"Although social distancing keeps us physically apart, I feel a strong connection with my community, sacrificing together for the greater good."
Desiree Walters – Website | Instagram (New York, USA)
"As restrictions outside have tightened our tolerance for childhood antics have loosened, so I am comforted by watching my kids be kids, and I am finding physical closeness to my family is the perfect antidote to the fear and anxiety of the unknown outside our door."
Jason Vinson – Website | Instagram (Arkansas, USA)
"Social distancing makes me feel more thankful for the strong photography community online."
Gaby Ermstrang – Website | Instagram (Woudrichem, Netherlands)
"Social distancing means social isolation to me, pressure and an even busier life than I already had. Normally I am a people person, I prefer real life. Meet in person.  Now, I don't have any choice. I hated online, Skype or facetime. Now, I don't have any choice. I have to be online. Be online a lot, talk to my clients, talk to students. And on the other hand, a daughter who is at home. She needs her schoolwork and can not play with her friends. Suddenly my husband works at home. We need to make it work, we have to make it work, but the pressure we are experienced in such a short time."
Joshua Kozlowski – Website | Instagram (Wisconsin, USA)
"Even with being more connected than ever before and having all the world's conveniences at our fingers tips, I still can't help but feel displaced from the things that make me feel whole in this world."
The FOFC Social Distancing Club is free to join on Facebook and encourages documentary photographers who would like to practice photography during Social Distancing to join and submit photos in this group.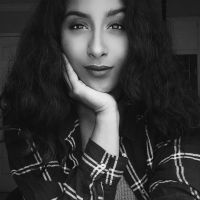 Shivani Reddy
Shivani wants to live in a world where laughter is the cure to pretty much everything. Since she can't claim "Serial Bingewatcher" as an occupation, she'll settle for wedding/portrait photographer at Lin and Jirsa & marketing coordinator here at SLR Lounge. For those rare moments when you won't find a camera in her hand, she will be dancing, eating a donut, or most likely watching Seinfeld. Follow her on Instagram:
@shivalry_inc