It's called the Phottix Mitros+ TTL Transceiver Flash. That's one very long, descriptive name for a flash and it holds all those words because it can do all that and more.
Compatibility
The Phottix Mitros+ is a Canon compatible hot shoe flash, which means you can mount it directly on to your Canon hot shoe and the following functions will work:
Manual and ETTL mode
HSS – High Sync Speed and Second Curtain Sync
Auto and Manual Zoom
AF-assist Light
Build and Body
Phottix spared nothing on the Mitros+. It's a solid build with the metal shoe, rubber skirt and shoe lock.
Wireless Capabilities
The Mitros+ has a built in receiver and transmitter which allows it to act as either master or slave to other Mitros+ flashes or most Canon EX flashes which simplifies the setup altogether. It's an optical transmission which means the units have to have a clear line of sight. The published range shows up to 50 ft indoors and 30 ft outdoors.
The Mitros+ also has a built in transceiver compatible with the Phottix Stratto and Phottix Odin Transceivers for radio triggering. This is my preferred method for the sake of accuracy and to avoid misfires due to obstructions (like walls and people's heads), plus the published range shows over 300 feet in reach. With the Phottix Stratto transmitter combined with the Mitros+ grouping and channel functions my team and I can quickly and easily transition between a variety of lighting options in any scenario. If you have the Phottix Odin transmitter you can control your exposure compensation and power levels for each flash grouping from the Odin transmitter.
My current working setup looks something like this (though we may or may not use all of them):
• Canon 5D Mark III+ Phottix Stratto II Transmitter + Canon 580 EXII (on camera)
• Phottix Mitros+ flash on stand set to Channel 1 Group A
• Phottix Mitros+ flash on stand set to Channel 1 Group B
Extras and Backup Set
• Alien Bee + Phottix Stratto II Receiver set to Channel 1 Group C
• YN 560 + Phottix Stratto II Receiver set to Channel 1 Group D
The ability to mix and match the number of types of light and brand variations is one of the largest selling points of this system. Without having to eliminate my existing set, these flashes were a seamless addition to my existing repertoire without adding complication. If anything, it has simplified it.
[REWIND: Phottix Stratto II Trigger Review]
The User Interface
Next to power and flexibility, the ease of use for my lighting equipment is a very important factor. I don't like having to setup a separate training session for a lighting assistant just to figure out how to use the gear. The user interface on the Mitros+ was fairly intuitive. A brief consultation with the manual and I was off and running. By brief consultation I mean just a glance (barely). The buttons on the flash are all well labeled. The functions are accessed via single press or long press and the rest is easy to follow. There is nothing worse than having equipment difficulty in front of clients and flashes are notorious for causing headaches. Phottix did an excellent job with making the settings easy to find for manual settings, master/slave functions as well as channel and grouping selections. They even thought of a battery life indicator. This particular setup is Phottix's big win over the Canon 600EX-RT in my opinion.
The Other Numbers
Guide No.: 58/190 (at 105mm focal length, ISO 100 in meters/feet)
Flash coverage: 24-105mm (14mm with wide angle diffuser panel)
Recycling time/Flash-ready indicator:
Normal flash: Approx.0.1-5 sec./Red LED indicator lamp lights up.
Quick flash: Approx.0.1-2.5 sec./Green LED indicator lamp lights up.
Power: Four size-AA alkaline or Ni-MH batteries, compatible external battery pack
Power saving: Non-wireless slave modes: 90 seconds, Wireless slave mode: (programmable) 10 minutes or 60 minutes
Channels: 4
Controlled Groups: 3 (A, B, and C)
Transmission range (Approx.): Radio: 100m +, Optical: Indoors: 12-16m/39.3-52.4 ft., Outdoors: 7-9m/22.9-29.5 ft.
Conclusion
The Phottix Mitros+ is currently listed at $399 and it's an excellent value. (It is also available for Nikon cameras). Finding a flash with this much capability will understandably move us out of the lower priced flash range, but it's still less than it's branded counterpart the Canon 600EX-RT. Given the functions, flexibility to use with existing gear, and the easy to understand UI, I'm giving the Mitros+ 5 out of 5 stars.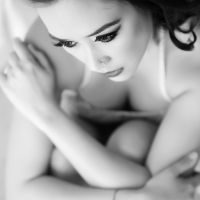 Michelle Ford
Michelle is a Southern California Portrait and Wedding Photographer. When she's not geeking out with a camera she's nerding out in her IT world. All other moments in the day are spent with her two wonderful children. See her work on
The COCO Gallery
check out her blog at
frexNgrin