Social influence has climbed the ranks of importance and tops both technical and business skills when it comes to defining the parameters of success. Providing access to raw and candid insight that goes into the process is in as much demand as the final product, if not more so. People want to know the 'how' every bit as much as they want to know the 'why'.
The career of a photographer can be launched seemingly overnight simply by someone of status taking notice of an image that has pleased the algorithms with a number of 'likes', courtesy of a vast social following. This poses a question begging to be asked: Is a curated website showcasing an online portfolio even relevant in a world of immediacy where instant gratification is accessible by our very finger tips?
The short answer to this loaded question is "yes" and the British Journal of Photography posed this query to five industry professionals in an effort to gain inside perspective on what they seek in an online portfolio.
The Industry Experts
Diane Smyth – Digital Editor, British Journal of Photography
Ken Flaherty – Founder, Doomed Gallery
Matt Martin – Co-Curator, Doomed Gallery
John Wyatt-Clarke – Founder, Wyatt-Clarke and Jones Photo Agency
Fiona Shields – Head of Photography, The Guardian
A website is the gateway into an artist's body of work and resources such as Format are among the favorites within the creative community because of their ease of use and clean aesthetic. There is no cookie cutter answer that encompasses the intricacies necessary to captivate the viewer within mere seconds of landing and there are some common threads of advice among these experts.
The website should be straightforward and simple to navigate with quality images that load in a timely manner. All of the experts agree that a carefully curated portfolio demonstrating the best work, not necessarily the most recent work, is imperative and that fewer strong images are more impactful than a plethora of mediocre ones.
First impressions of a site are a priority among those looking to immediately make a commission while they are less prevalent among the photo agency and gallerists looking at a future working relationship. Both Smyth and Flaherty encourage either a personal bio or a brief explanation of the body of work for them to become better acquainted with the photographer. Furthermore, Shields is looking for a photographer's style and range while Wyatt-Clarke is looking for a portfolio that clearly emphasizes the type of work a photographer wants to do within their book.
"[…] If your work is good enough, from the perspective of an agent, you can get away with bad representation. It is our job to help you improve your online presence." – John Wyatt-Clarke.
A website in the modern world goes hand in hand with a candidly authentic social media presence because that influence redirects the audience to the prized portfolio. It is important to research and keep the target audience in mind, crafting a platform that caters to that audience and also clarifies you as an artist. Overall, simplicity is key and the website design should serve to compliment a photographer's book.
Click here to read the full article and peek into each expert's individual point of view.
Via: Fstoppers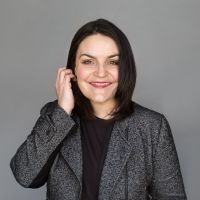 Brittany Smith
Brittany is a fashion and beauty photographer who works between NYC, Montana and LA. She photographs the way she has always wanted to feel and believes in the power of raw simplicity. When not behind a camera she can usually be found at a local coffeeshop, teaching fitness classes at the YMCA, or baking something fabulous in the kitchen. Instagram: @brittanysmithphoto