My first WPPI experience was in 2009. I had only been to Las Vegas one other time in my adult life and had no idea what to expect. I happened to procure a free ticket to the entire convention and a great deal on the hotel room and flight. This will be my sixth year attending and, as usual, I am excited and making the final preparations for another awesome experience!
If you don't know what WPPI is, it is a conference geared toward wedding and portrait photographers, but I've also met many landscape photographers and videographers who attend to see the latest gear, mingle with the fun people and attend some of the classes. It is a few days of excellent speakers, fun parties, networking and checking out the latest gear and products at the trade show. I've heard it described as the "summer camp for photographers," and that is a very adequate description.
Now that I'm a "pro" at attending (and working at) WPPI, here are some of my best tips for people attending for the first time or looking to experience WPPI a little differently.
1. Comfy Shoes in the Day, Stilettos/Dress Shoes at Night
If I wore my FitBit to WPPI (and I won't because it doesn't match my outfits), it would track thousands of steps from my hotel room (at MGM Grand) to the trade show floor, then back again. And again. And again.
If you have the mindset that, hey, you stayed at the same hotel as the conference and everything should be close by, that would be a false assumption. Even the MGM Signature Suites, which can seem relatively closer, is not. Staying at the Signature, though, does have some moving sidewalks, but they move slowly. From the regular MGM rooms to the trade show floor is about a 50 miles (or so it seems, actually it's about 1/2 a mile).
Once you're actually at the convention center, the platform classes are held mostly on a couple of floors. Luckily, there are escalators for those. The trade show, however, are held in two huge rooms that can take days to get through, with its hundreds of awesome exhibitors.
Every night, there is a party or 10 going on. It is, after all, Las Vegas! This is the time to bring out the dress shoes and snazz it up a bit. There will be lots of standing, dancing and walking from party to party. I wear gel insoles to help my feet withstand 6 hours of dancing in 6 inch stilettos. I also book a massage upon immediate return from WPPI. You'll need it.
2. What Should I Eat?
Unless you have copious amounts of money to spend, I always make a quick trip to the grocery store before the convention starts or bring food with me (if I am driving). The MGM Signature has kitchens in the suites, but the hotel rooms at MGM Grand do not. Eating in Vegas can be EXPENSIVE.
There are plenty of restaurants along the way of your 1/2 mile journey from room to convention, but they can be pricy and very, very busy. There is a food court mid way, which offers options like pizza, stirfry, McDonalds, and the like, but again, the lines are very long especially during meal times (obviously). Always have in your bag a water and granola bars. Walking around the trade show can suck up a lot of time and much energy. There is a Starbucks in the Signature and also half way into your trek from room to convention center – but the line is usually long. Hidden within the hotel is also an additional Starbucks, which is less crowded.
I recommend at least trying a restaurant or two and a buffet when you're out in Vegas. At MGM, I love Shibuya and Wolfgang Puck. But personally, I don't recommend the buffet there. My favorite Vegas buffet? The Buffet at the Bellagio.
After a late night of parties, the McDonalds at the MGM food court is open at 4:30am for a quick bite to eat before bed.
The food I bring with me to the hotel room:
WATER – LOTS OF WATER
Airborne (start boosting up that immune system NOW) and throat drops
Bread
Peanut Butter
Protein bars/Granola Bars
Protein Shakes
Apples/Bananas
Candy and Gum
Energy Drinks
Pretzels/Chips
If you drink, we always bring some alcohol with us. Many of the parties provide open bar or drink tickets, but drinks in Vegas are pretty expensive if you venture out to any of the clubs.
3. People are EVERYWHERE and That's a Good Thing
Be ready to make new friends. There are around 15-20k of people that attend this conference each year. Bring business cards if you must, but don't treat this as a networking event. It is a great opportunity to network, but it is much less formal than that.
Since there are so many people, bring hand sanitizer and as mentioned above, the Airborne. You'll be shaking a lot of hands, giving a lot of hugs and talking to a lot of people. More than a handful of people get sick after WPPI every year, so take preventative measures, if possible.
[REWIND: WPPI: Hanging Out with Kirsty Mitchell, Zhang Jingna, Renee Robyn, and Ben Von Wong]
If you're an introvert, I highly recommend that you take some time away for yourself, but make every effort to break out of that comfort zone and meet people. The first year I was there, I was very shy, but I forced myself to meet people and as a result have so many rich relationships with people I've met through the years. It's also opened up plenty of opportunities for my career that I could never have imagined.
4. Can You Hear Me Now?
The reception on the trade show floor is awful at best (I use AT&T. Verizon customers seem to have some luck in previous years). Sometimes, turning off 4G and using the hotel wifi is helpful, but turn off whatever it is that has your phone searching for signal. It will kill your battery.
Outside of the Marquee Room (one of the trade show floors), you'll notice a group of people sitting on the grass furiously talking into their phones or texting away. This is about the only area that has passable cell service. Inside your room and the convention, not so much.
Make sure you make plans with your group the "old fashioned" way- however it was done in the time before cell phone technology. "Meet me at __________ at 3:00pm" or send a raven.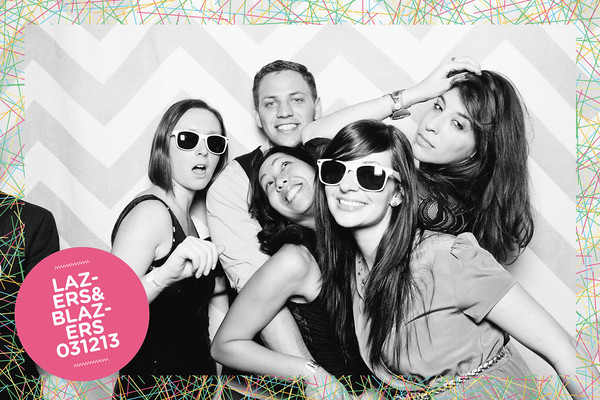 5. Stuff to Keep at Home
Your Big DSLR – For the first 2 years, I lugged my ginormous camera bag, 2 camera bodies and lenses with me. The first year, I participated in a few photo shoots and that was fun. The second year, it stayed in my room the entire conference. A smart phone or point and shoot will suffice if you want to take pictures. Last year, a few people had the Instax camera and that was great, but a full kit is unnecessary (unless you plan on having photo shoots), especially in a town where the adage is, "What Happens in Vegas, Stays in Vegas."
Rental Car – For me, a rental car is unnecessary. Taxis are the best form of transportation. A taxi from the airport to the MGM Grand is about $15. You can walk most places and if there is a party somewhere off campus, you don't need to worry about traffic or a designated driver. Get a group of friends together and split the tab. The Monorail is also a really inexpensive alternative to get around the strip.
Valuables – If you must bring valuable items, such as your laptop, jewelry, etc, lock them up in the room safe when you leave. Last year, there were many reports of theft from cars and rooms alike. So be careful.
6. BONUS TIP
Come visit the UNDFIND booth in the Marquee room, Booth number 1626. UNDFIND is our sister company which makes stylish camera bags with interchangeable covers, shooting bags and accessories for awesome photographers. We'll have a few of the SLR Lounge DVD's there, as well as a peek at our exciting new workshop DVD, Photography 101. BOOTH 1626 (right by the BayPhoto Lab booth).
What are some of your best WPPI tips? Comment below.
Hanssie
Hanssie is a Southern California-based writer and sometimes portrait and wedding photographer. In her free time, she homeschools, works out, rescues dogs and works in marketing for SLR Lounge. She also blogs about her adventures and about fitness when she's not sick of writing so much. Check out her work and her blog at
www.hanssie.com
. Follow her on
Instagram