If the phone camera industry was going to be up-ended by something truly different and remarkable coming from a non-phone company, then it sort of makes sense that RED would be it, and from what we can tell thus far, it has. The RED Hydrogen One was announced earlier this month and RED delivered a masterclass in how to announce something and get people interested without actually revealing much about it at all.
All we saw of the Hydrogen One was a single image, which, much like the whole announcement itself, was veiled in darkness. People were pulling the shot and trying to lift the shadows in post to get a better idea and then discern more about the unit, but really, it was fruitless and until now no-one outside RED seems to have seen a unit, much less been able to share it. That changed today when Marques Brownlee put out a video with the unit in-hand.
Of course it would be someone like Marques to deliver this, and what we have is a look at a powered-off prototype, and one of 3 he said he got his hands on. The first was a unit that should look like what buyers will receive with the others being for testing various functionality.
What we see is all at once familiar, as it's a black slim phone with a dual camera set-up, and yet beyond anything we've seen for phones before. It just doesn't look like most others, and that's a bit exciting, because we know the quality RED is capable of and while Portrait Mode is brilliant RED could deliver something for working pros.
In the end of the video you'll see a prototype that takes advantage of the pins and magnet system by adding a modular sensor and lens mount. It looks nothing if not serious, and sort of gets the mind racing as to what that mount is for.
Beyond that we also get a glimpse of the '4V' version of the phone. Actually, not a look at it as much as a look at Marques looking at it, and one can only guess by his facial expression just how different and immersive what he's looking at is.
Check it out.
Want one? Well, you can order one now and target ship date is Q1 2018. How much? Well, there are two versions with little detail on the differences. In fact, we just know there's the Aluminum for $1,195 and Titanium for $1,595. You can order one here.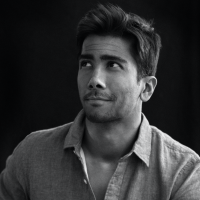 Kishore Sawh
A photographer and writer based in Miami, he can often be found at dog parks, and airports in London and Toronto. He is also a tremendous fan of flossing and the happiest guy around when the company's good.