To discuss Canon's new 77D camera, you really need to talk about Canon's DSLR lineup – particularly in comparison with two other cameras.
The 77D sits in a newly created and peculiar spot in Canon's DSLR stable from the lowest camera on the totem pole up to the tip-top of Canon's DSLR ladder. Prior to this release, the primary contenders were the Rebel T6s, the 80D, the 7D Mark II, the 5D Mark IV, and the 1D X Mark II. The latter two are full-frame and the others have smaller APS-C sensors. This pecking order has been more or less established for years, but now Canon has decided to shake things up a bit with this new offering.
SPECS
Optical Viewfinder with a 45-point All Cross-type AF System
Fast and accurate Dual Pixel CMOS AF with Phase-detection
24.2 Megapixel CMOS (APS-C) Sensor
DIGIC 7 Image Processor, ISO 100–25600
Built-in Wi-Fi®2, NFC3 and Bluetooth®4 technology
Vari-angle Touch Screen, 3.0-inch LCD
Movie Electronic IS
HDR Movie & Time-Lapse Movie
High-speed Continuous Shooting at up to 6.0 frames per second (fps)
The 77D sits between the also-newly-released Rebel T7i and the 80D. It looks more like it belongs in the same family as the 80D but feels (and is specced) like a Rebel T7i. What does that mean? The 80D and its predecessors, owing to their sturdy magnesium alloy bodies and weather sealing, are heavier duty cameras and they feel like it. The 77D, being around 200 grams lighter than the 80D, has more of a plastic, lightweight feel – like an entry-level Rebel.
As far as the guts go, the 77D and the Rebel T7i are basically the same camera. They share a 24.2 megapixel CMOS APS-C sensor, Dual Pixel + 45 point, all-cross-type autofocus system, ISO range, shutter speed range topping out at 1/4000, Digic 7 processor, 6 fps burst, 1/200 X-sync speed, just… everything.
The 80D, in addition to its more professional durability, bests the pair of fraternal twins, 77D and T7i, in most areas with a 7 fps burst, 1/8000 max shutter speed, 1/250 X-Sync speed – all features you would expect looking at a prosumer body. All three cameras, however, share a sensor and autofocus system. The 77D and T7i do have two areas in which they reign over the 80D and that's their processor, which makes a debatable difference in performance and ISO range, providing one stop more light than the 80D.
Where the 77D and T7i diverge is the body layout. The 77D has more physical controls, which, to most experienced photographers is very much appreciated. Menu-digging to change simple settings is no one's idea of a good time.
The 77D has also inherited a form of Canon's thumb wheel, though it feels a little dinky compared to the ones found on prosumer and professional bodies. Like the 80D, the 77D has a top LCD display – handy for quickly viewing settings.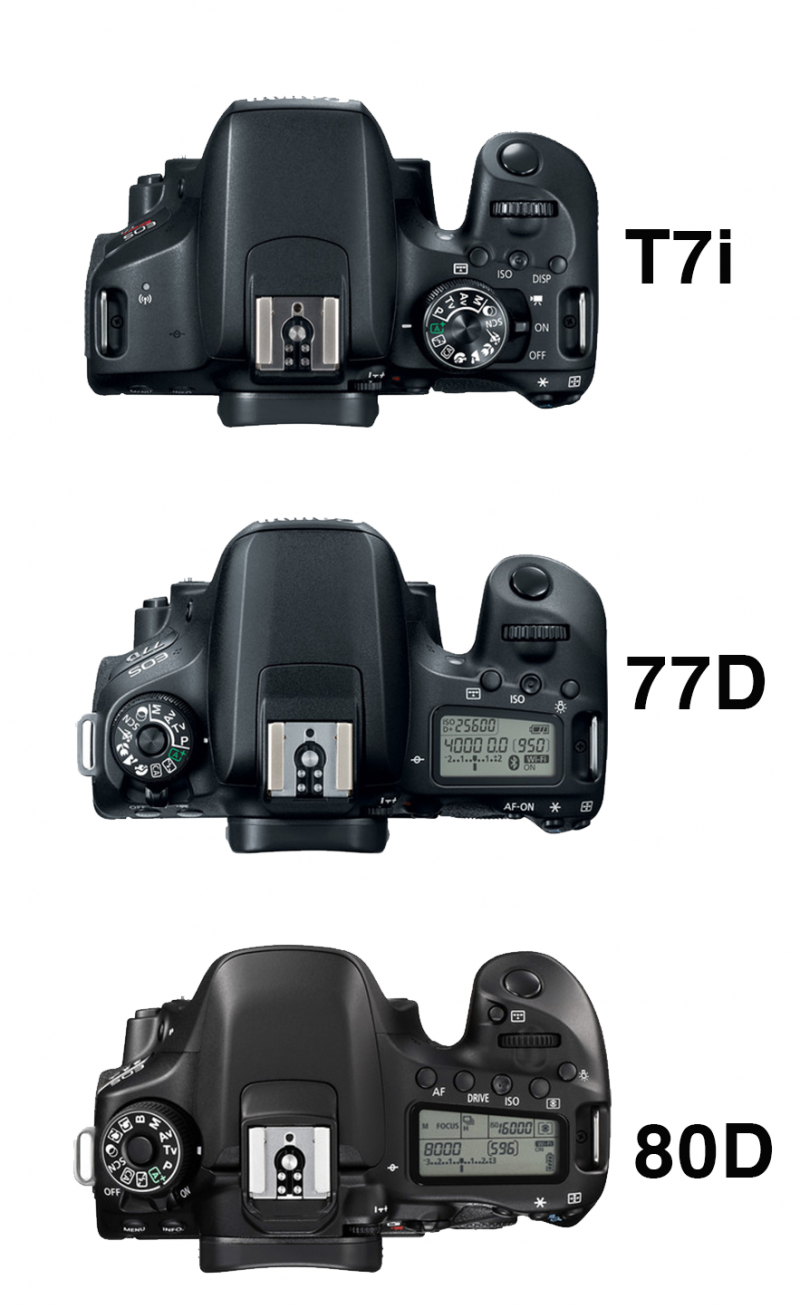 There are some more similarities and differences to go over between the three so look to the full review for greater detail.
Being so similar to both the 80D and the T7i, when one considers the 77D one is really left to wonder – why? Who is this camera for, and why would you choose it over one of the others? As one who chose their first DSLR based partly on external controls, I would say for the $150 difference in asking price, the 77D absolutely makes sense to choose over the T7i, but does it make as much sense as saving a little longer for an 80D? Here is where personal preference and available funds really come into play.
The 80D is, at least, a little more 'professional' in almost every way, but does that matter to you? Would you prefer a lighter body for walking around? If so, the 77D may better suit your needs. The 80D's list price is about $300 more than the 77D's, so if you're deciding between these two cameras consider what those $300 extra dollars will buy and if you really need those features.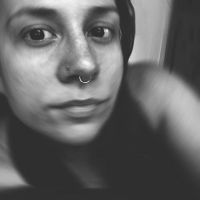 Holly Roa
Seattle based photographer with a side of videography, specializing in work involving animals, but basically a Jill of all trades. Instagram:
@HJRphotos