Juxtaposition, I've always found to be, perhaps, the most important part of a compelling character. What I mean is best illustrated by example, and in terms of attraction. Think of an athletic man. Picture him in your mind now and you'll likely envision him in trackwear or sporting attire. You may even envision the high school football jock. On it's own, being athletic is a nice feature to have, but, if we then think of this 'jock' and add that he's also a classical pianist who volunteers at an animal shelter, his dimensions cease to be singular. The character is much more compelling and interesting. It works in the opposite way of course, where a quiet girl who is also a latin dance instructor would be more compelling than just a quiet girl. This addition of dimensions is also prevalent in photography that moves us.
Vassilis Tangoulis is first, but not necessarily foremost, a physicist working in the chemistry department of Aristotle University in Greece. Being Greek born and bred, Tangoulis was surrounded by mountain and seaside views relished the world over. A fact he attributes to influencing his perspective, a perspective put to use in creating award winning landscape photographs. I caught up with him, and he shared the mentality behind his photos, and the gear he often uses to make them.
[REWIND: Black and Whiting and Advanced B&W Toning in Lightroom 3]
The lion's share of Tangoulis' work is to be found in shades of gray. B&W is his choice because he believes the photos he takes just wouldn't work in colour. He also feels the drama and nuances that can be derived from B&W outweighs that of colour. He has a fantastic idea about photography being a 4D endeavour, which leaves a 'trace' in a 2D layer. The fourth dimension he speaks of, is time, which he adds with his frequent use of long exposure. It's the time, he feels, artists can use to capture truly unique essences of their subject.
When this happens for a 3D object, it is easy for a mind to visualize its 3D morphology. In order to envision a 4D object, however, one needs the power of Fine Art photography.
Gear List
Canon EOS 7D
Canon 17-40 USM
hitch Pro Stop IR Neutral Density Filters (10 & 6 stops)
Manfrotto tripod
Thoughts
Fine art can be as hard to define as it is to execute, but if you need a yardstick to go by, Tangoulis' photos are a decent place to start. His work has garnered him recognition from IPA more than once, including a second place in 2012. That's a big deal. There is always something to say in his photos, either conceptually or symbolically. If that message isn't easily apparent, look to the titles of his images to guide you. This personality mix of science and art is beautiful; very renaissance, and it reflects in his purposeful work. To sum it up, I'll refer to a quote on his website by Ansel Adams, which seems to apply very much to Tangoulis: "When words become unclear, I shall focus with photographs. When images become inadequate, I shall be content with silence."
To find out more about Tangoulis you can keep up with his latest ventures on his site, Facebook, and Behance.
CREDITS: All photographs shared by Vassilis Tangoulis are copyrighted and have been used with permission for SLR Lounge. Do not copy, modify or re-post this article or images without express permission from SLR Lounge and the artist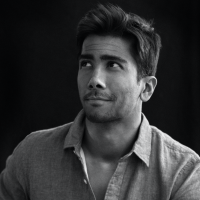 Kishore Sawh
A photographer and writer based in Miami, he can often be found at dog parks, and airports in London and Toronto. He is also a tremendous fan of flossing and the happiest guy around when the company's good.