Warning: This post contains GRAPHIC CONTENT. Images may be disturbing to some.
When the world around us is out of our control, and there is nothing else we can do, photographers usually pick up their camera, seeking solace in the familiar. Photography gives us a task, gives us a purpose and gives us a direction. The job of a photojournalist is even more so. Seeking out the to tell a comprehensive story in a handful of images, to relay the emotion of the moment, be it joyous, tension filled or heartbreaking, photojournalists are at the front lines documenting it all.
[REWIND: Photographer Documents Wife's Battle With Cancer]
Ahmad Yusni is a photojournalist in Malaysia. He now works for the European Press Photo Agency and had been all over the world documenting major world events, such as the Olympics in Bejing, the World Cup, tsunami's and protests. His most recent body of work, though, was the most difficult and the closest to home. In December, Yusni's brother, Mohammad Sani, was diagnosed with a terminal 'germ cell' tumor. 
Cancer is one of those horrifying diseases that touches almost everyone in some way. You'd be hard pressed to find someone who doesn't know someone who has had cancer. More than one million people in the US alone, are diagnosed each year. It can affect the young and the old, and for Yusni's brother, the terminal diagnosis came at just 33 years old. By the time they discovered the cancer, it had already blocked his kidneys and stomach. Germ cell tumors can grow rapidly, having lower than a 5 year survival rate. Mohammad quickly went through one course of chemotherapy, but his body was too weak to attempt another course.
Yusni began a photo diary, with the hopes of showing Mohammad smiling and healthy, back on the motorbike that he loved, but soon released that his brother would not survive. Yusni and his family had suffered subsequent losses in 2011, they lost his father and 2012, another brother. It would seem that 2013 would hold the same fate for Mohammad.
'It was very heart-wrenching for me to see him struggle and not be able to help him. Two long nights watching him at the hospital made me cry,' says Yusni.
Mohammad lost his battle with cancer just 39 days after diagnosis. He was in constant pain, even morphine did not help relieve any of the agony, as clearly seen in the following photos. "I lost hope that he would recover due to many complications. I found my prayers to God changing: 'God, please stop his pain, even death is the only choice, I can't stand to see his suffering anymore.'"
Despite his suffering, Mohammad stayed strong until the end, "Even through this long and painful battle, he said thank you to me and told me that he loved me," Yusni shares. Mohammad ws laid to rest December 28th, 2013 and buried in the cemtery next to his father and brother.
Warning: The following photos contain GRAPHIC CONTENT. Images may be disturbing to some.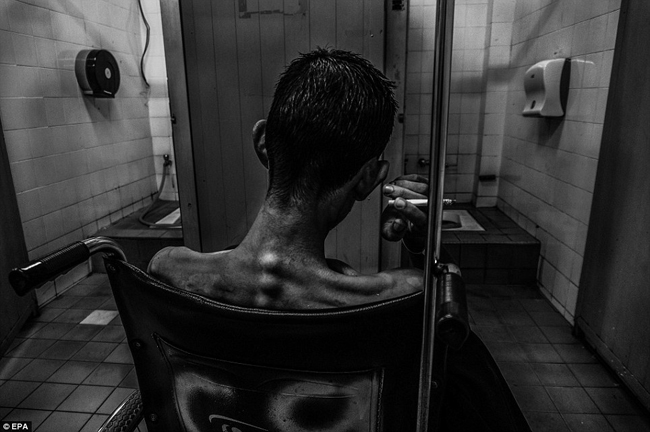 Many thanks to Ahmad Yusni for sharing his deeply personal photo diary with us. Please visit Yusni's website to see his photography.
CREDITS: All photographs shared by Ahmad Yusni are copyrighted and have been used with permission for SLR Lounge. Do not copy, modify or re-post this article or images without express permission from SLR Lounge and the artist
[Via @Daily Mail]
Hanssie
Hanssie is a Southern California-based writer and sometimes portrait and wedding photographer. In her free time, she homeschools, works out, rescues dogs and works in marketing for SLR Lounge. She also blogs about her adventures and about fitness when she's not sick of writing so much. Check out her work and her blog at
www.hanssie.com
. Follow her on
Instagram