We've all heard the term "bright & airy" roll off the tongue of numerous clients over recent years due to the rise and popularity of film edits, film cameras, and presets.
Whether it be a fashion shoot, wedding, or simple portrait session, the filmic look has become one of the most sought after styles of photography and editing. So how do you emulate filmic looks while still maintaining the dynamic range in your images?
Let's take a look at a recent family portrait session to see just how simple it is to get it right in-camera for the look you want in post.
step one: Understanding natural light
It all starts with a strong comprehension of how to use natural light. It is a known fact that photographing subjects at Golden Hour yields a style of imagery currently in trend according to literally every Pinterest mood-board we've come across. Finding the right background and placing your subject's back to the light is your first step in creating this look.
Use your lens' widest aperture (whether that's f/1.2 or f/2.8) in order to achieve a shallow depth of field, sending your background into a blurry haze and allowing you to soak in all of the available light without compromising your ISO or shutter speed. By placing your subjects in this lighting setup, you have a natural backlight as well as fill from the light hitting the ground filling in the shadows of their faces.
step two: applying the preset & tweaking
The beauty and ease of presets is meant for sessions like this: consistent scene + lighting = minimal editing required. The SLR Lounge Preset System was devised around the idea of training photographers to get their settings right in-camera, so that once in Lightroom you are less than 5 clicks away from finishing an image.
You'll notice the SOOC image is a bit underexposed. This is done purposefully in order to retain the shadows and highlights of our scene. It's a common mistake to overexpose your scene (unlike with film) to create that bright and airy look, because once pulled into LR you risk muddied highlights and grey-tones when attempting to fix overexposed highlights. The above image was created in 4 simple clicks:
Apply Preset – Kodak Portra 800
Bump Exposure +0.6
Add Sun Flare Preset Brush to top right corner
Add Radial Filter with a -0.5 Exposure Burn
The SLR Lounge Film Presets are also perfect for creating a cohesive look throughout your session, allowing you to create black and whites that pair with the same mood and filmy feel of the Fuji & Portra edits. Each preset is broken into Soft Matte, HDR Matte, Rich Colors, and Rich Matte made for you to build upon the filmic effect you've chosen.
step three: enhancing & cropping
Like any portrait session, we want the lighting & editing to be an added bonus to the moments captured. Storytelling is a component of our job and your post-processing can actually help tell a stronger story.
3 important storytelling angles
In all of our Wedding Workshops, we emphasize 3 main storytelling angles for portraits:
Environmental/wide
Medium length
Close-up.
You've covered all your bases if you capture these three angles, and they don't necessarily need to be at different focal lengths. The entire set above was captured on a Sigma Art 50mm f/1.4, just at different distances from the subjects. By shooting this way you are directly showing the client what their images could look like in an album or in print by creating moments and belong together.
sunflare brush preset
The SLR Lounge Preset System comes with built-in Local Adjustment Brushes made to help enhance or reduce where needed. This session was filled with gorgeous natural sun flares but I wanted a bit more bleeding in some images to really bring out the brightness of the image. The brush does an excellent job at enhancing the existing flare in the scene and evenly spreading the light.
Join Premium
To gain more insight on how to get things right in-camera to save yourself a ton of time in post, check out Shoot to Post, our latest Premium release. And don't forget that the SLR Lounge Presets are included in your Premium membership so upgrade today!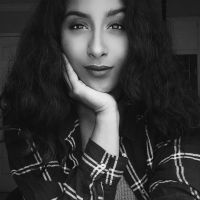 Shivani Reddy
Shivani wants to live in a world where laughter is the cure to pretty much everything. Since she can't claim "Serial Bingewatcher" as an occupation, she'll settle for wedding/portrait photographer at Lin and Jirsa & marketing coordinator here at SLR Lounge. For those rare moments when you won't find a camera in her hand, she will be dancing, eating a donut, or most likely watching Seinfeld. Follow her on Instagram:
@shivalry_inc