Food. Can there be anything more intrinsic to the human condition? Sex, perhaps. But eating, is one of the fundamental features of human life. It's linked directly to survival and also inextricably entwined with our social selves. So much can be based off, and therefore derived from, our food culture; Our choice of company to dine with, where we eat, what and when. Food is so engrained in our lives that it's part of our self-identity, and helps in defining social constructs like class, gender, and ethnicity.
As such, food is wielded as a powerful source of imagery in theater, film, and of course literature. From the moment quills first met with paper, food has been used to convey a message, been a plot device, used as a method of revealing an environment and even a character, and all in all bring a reader in, and help represent the different manifestations of depth, and human complexity. Food is not only sensory, but sensual. From Hemingway to James Joyce, authors have used food to paint a picture. Designer and photographer Dinah Fried took their descriptions and actually made the pictures.
Fictitious Dishes: An Album Of Literature's Most Memorable Meals is the book materialized as an evolution of her design project. It's 50 pictures dense of meals from celebrated pieces of literature, and the imagery is diverse as the works.
Dinah, now featured by outlets like Huffintong Post, NPR, The New Yorker, began the series as part of a design project at the Rhode Island School of Design. It's simmered and risen to the book available now. The photos, shot on a Nikon D40 are all meticulously arranged, mood lit, with not a detail left to chance, and each photo is accompanied by the text from which it drew inspiration. It's an homage, in the most delectable of fashions.
Thoughts
It's such a fantastic idea. Food and literature brought together in a photograph that sort of envelops you into time's great stories. It breathes new life into old text, and leaves you hungrier for more. Perhaps hungrier more for photos than for more food.  Dinah's execution of the decadence of Gatsby, impoverished Oliver Twist, and peculiar Alice In Wonderland, is really key to the success of the series. Had it been less thought through, less meticulous, it wouldn't have worked. But it does, and it's utterly charming. It's also hot off the press…or oven, as it were.
Find more from Dinah and get the book here on her site, with access to more photos, the blog, and background, and follow her on Twitter here!
CREDITS: All photographs shared by Dinah Fried are copyrighted and have been used with permission for SLR Lounge. Do not copy, modify or re-post this article or images without express permission from SLR Lounge and the artist.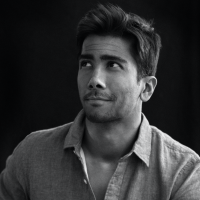 Kishore Sawh
A photographer and writer based in Miami, he can often be found at dog parks, and airports in London and Toronto. He is also a tremendous fan of flossing and the happiest guy around when the company's good.