Lenses for Shooting Portraits
Whether it's for newly engaged couples, families, or concept shoots, Pye and I are constantly shooting portraits. We find ourselves gravitating to a couple of lenses and we wanted to share with you what our favorite portrait lenses are and why. Check out the video below to see our favorite portrait lenses!
Our Favorite Portrait Lenses | Gear Talk Episode 4
My Favorite Portrait Lenses: Voigtlander Nokton 50mm f/1.1
Because of its maximum aperture, unique bokeh, and rendering of colors, this lens has become my favorite lens to go to when shooting portraits. It's one of my lenses in my favorite portrait lenses kit, and the first lens I put on my camera when I'm shooting for leisure.
Sony 135mm f/1.8 Carl Zeiss T*
When I switched from Canon to Sony, one of the first lenses I bought was the Sony 135mm f/1.8 Carl Zeiss T*. The focal length and maximum aperture made it the perfect lens for portraits, and it comes with me on every session. No matter the subject, background, or time of day, I can always count on this 135 to deliver stunning results.
Pye's Favorite Lenses: Canon EF 85mm f/1.2 II
The Canon 85mm f/1.2 II is a jewel in Canon's professional lens lineup, and if you've ever used it, you know exactly why. It renders some of the most beautiful bokeh, and it's surprisingly usable and sharp when shot at f/1.2. It does come at a price (it's their most expensive prime that comes in black!), but if you're mainly shooting portraits, then it's worth every penny.
Canon EF 70-200mm f/2.8L IS II
This lens is a staple in any photographer's kit, and for good reason. The Canon EF 70-200mm f/2.8L IS II is versatile, has excellent optics, and has an amazing Image Stabilization motor. I can also get amazing image compression with this lens when shooting at 200mm.
We hope you enjoyed this episode of Gear Talk. Be sure to subscribe to our Youtube Channel for more! If you want to see us talk about any gear in particular, let us know in the comments!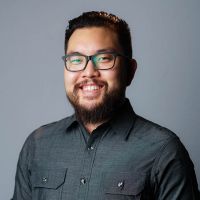 Joseph Cha
I'm a photographer and cinematographer based in Southern California. When I don't have a camera in my face I enjoy going to the movies and dissecting the story telling and visual aesthetics.