Father's day is fast approaching and if you're reading this you either know a dad (even to fur babies) that is into photography, would like to get one into photography, or are on that wants to send hints to your kids of significant other. In all cases we have you covered.
We've gone through and curated some of the most useful and desirable photography related things that any photographer would be served well with and would enjoy – and we've done it to match various budgets. We have categorized them, and we will start with things that are NOT cameras or lenses, and work our way down to those.
To point out some of our personal preferences from the list below, here's a shortlist:
So without further a-do, here they are broken up by category:
Software & Education
There is a lot that can be said about the editing softwares on the market, and perhaps it's bold to say, but it is with confidence we say that Capture One is the best raw processor on the market, bar none – there's a reason you'll see , almost exclusively, Capture One being used in professional fashion and portrait photography studios the world over. Nothing compares for tethered capture nor color grading within a raw processor, and the new layers abilities and PSD integration makes Capture One more compelling today than ever. If you want to see your files 'sing', this is the software to use.
Want some pixel-bending ability but don't want the recurring fee of Photoshop? Affinity Photo is the only Photoshop substitute on the market, and many of us on SLR Lounge staff use it as our go-to, including on iPad which is a full experience. At a one-time cost of $49.99 it's one of the best deals out there, and a phenomenal program.
We created SLR Lounge products to help the photography community learn and do it with speed and great understanding, and we brought SLR Lounge Premium to pull all of our materials into one spot, able to be streamed anywhere, without the need to lay out the initial investment it would take to buy all the courses you want – Premium gives you the best of both worlds, and covers everything from portraiture, wedding photography, engagements, post processing with Lightroom, fashion photography, lighting, and more.
As part of the package members get our touted SLR Lounge Preset System and included in our Premium offer this year is the new Lead Generation & Instagram Growth Playbook ($149 Retail) – a playbook detailing one of our biggest secrets for generating thousands of leads and new Instagram followers. This step-by-step guide walks you through how to use Photo Session Giveaways to take your business to the next level. The last time our studio used this strategy, here were our results:
SLR Lounge Premium members are also privy to material from our partners, and discounts from major brands, and get our absolute newest and best materials before anyone else. Premium membership is, we feel, the best choice for those who are serious about learning and improving their photography with the steepest learning curve
Check out all premium has to offer here.
Editing Tools
The Intuos Pro Creative Pen Tablet from Wacom is a flexible graphical tablet that can be used to digitize your work, and by flexible, we don't mean bendable. By itself, the Intuos Pro is a standard drawing tablet that connects to your system via USB or Bluetooth. It has eight customizable ExpressKeys and a Touch Ring to assist you with your workflow, and comes with the Wacom Pro Pen 2, which has 8192 levels of pressure sensitivity. Few things will improve someone's editing like this. Highly recommend. See full review here
Palette Gear us one of the only other recommendations I have other than a Wacom tablet. It's functional on many applications and growing; customizable, and well built. It can be a real boon to post processing and control in all the major softwares, and bests Loupedeck by a mile.
Hard Drives & Storage
Fast, reliable, beautiful, with built-in memory card readers, front facing USB port, Thunderbolt 3 and it can act as a data hub to chain devices together, this may be the one back-up device I recommend most to photographers. I often use it on shoots to back-up directly tethered into the device.
Camera Bags
WANDRD PRVKE – the only product reviewed on SLR Lounge that I have ever given a full 5 stars. It's stylish, light, resilient, highly functional, and from a great company of people. See review.
Miscellaneous Accessories
Bose QC35 II – when we spend a lot of time editing, or traveling, a good pair of headphones for a photographer can be a God-send.
Sonos One – Like above, here's a great sounding and stylish solution to good sound.
Leatherman Skeletool CX Multi-tool
For the handyman, this Leatherman will cut cables, wrench nuts, open bottles, and even tighten a Hex Bolt (with add-on) which is especially handy for those with Really Right Stuff gear.
Cameras & Lenses
Sony
Lenses & Accessories (some on sale)
Canon
Canon 7D Mark II ($450 off)
Lenses (some on sale)
Fujifilm
Lenses (on sale)
Leica
Nikon (on sale)
Nikon D750 DSLR + Free battery grip (review)
Nikon D500 DSLR Camera with 16-80mm Lens + Free Battery Grip
Hasselblad
Yes, this one is a bit exuberant, but if you're looking to get a dad who loves the process of photography, and the finer things in  life a dream piece, well, this is a great one. And it's about 30% off. See our review here.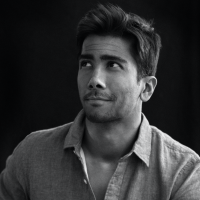 Kishore Sawh
A photographer and writer based in Miami, he can often be found at dog parks, and airports in London and Toronto. He is also a tremendous fan of flossing and the happiest guy around when the company's good.