With great power comes great responsibility is a popular mantra that is often thwarted around a preconceived ideal of justice, which as it turns out, is best served up as a main course featuring everything Beyoncé.
Anna Wintour has temporarily relinquished control and provided Queen Bey with unprecedented control of this year's fashion Bible. If rumors are true, this year's Vogue September issue will be the first to break the tried and true (and redundant) mold and, after 126 years, make history by hiring the first black photographer to capture their cover star.
Tyler Mitchell is no stranger to the big stage. At 23 years of age he has already worked with icons such as Spike Lee and Lil Uzi Vert for the covers of Office Magazine and The FADER. He has also shot for Teen Vogue and has an expansive client list that includes Marc Jacobs, Mercedes-Benz, Ray-Ban, Nike and Converse.
Having achieved such a prestigious milestone with these accolades as presented in such an impressive body of work, it shouldn't be much of a surprise that Mitchell was cherry picked for this coveted job. But it is, and it took Anna Wintour giving Beyoncé carte blanche to make it happen.
Edward Enninful has also made a splash across the sea with his most recent tenure as the newest editor-in-chief of British Vogue. Having been appointed the fashion director of I-D Magazine at just 18 years old, he has been one of the most influential figures in the industry. He has also been a major contributing fashion editor to both American and Italian Vogue as well as the fashion and styling director of W Magazine.
"Be sure of this: my Vogue will be the fashion Bible." – Edward Enninful.
Enninful has exemplified his testament from the very start, starring Ghanaian-British model Adwoa Aboah in a headwrap for his debut issue. In a recent pairing with Nick Knight, Rihanna was cast as the September cover star and goes down in history as the first POC to star in the September Issue of British Vogue.
Exciting as it is, there are also claims that this historic moment is merely a trend. The idea that this can be so quickly diminished to a fad blatantly paints a bleak picture of where the industry has come from and how far it still has to go. As progressive and fashion forward as the fashion industry is supposed to be, it has ironically been anything but and rather lethargic when it comes to casting inclusive talent.
Would this excitement be buzzing around the community if the allegations of #MeToo hadn't happened and tarnished the careers of the former photographers such as Mario Testino, Terry Richardson and Bruce Weber? Or is this so-called "fad" in fact a movement and history in the making?
If the latter is true, it is indicative that the public demands of inclusivity extends into every facet of the industry, including photographers. This could pave the way for a more varied photographer presence among the top magazines as opposed to cycling through the same handful of tried and true (and redundant) photographers.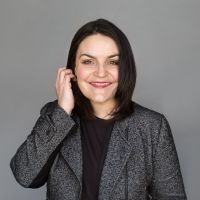 Brittany Smith
Brittany is a fashion and beauty photographer who works between NYC, Montana and LA. She photographs the way she has always wanted to feel and believes in the power of raw simplicity. When not behind a camera she can usually be found at a local coffeeshop, teaching fitness classes at the YMCA, or baking something fabulous in the kitchen. Instagram: @brittanysmithphoto