Fashion is intricately woven throughout our lives as a form of self expression, influencing the clothing that we wear down to the way we choose to view the world. Fashion is always evolving with change being the one guaranteed constant, and it is sure to continue impacting photography as a whole.
In a recent interview with Vogue, fashion director of M Le Monde Magazine, Suzanne Koller, shared her insight about the most recent changes in the industry and weighs in on where she thinks fashion is headed. For those in fashion photography, portraits and indeed almost all genres, this matters, as fashion tends to set the trends.
Fashion Is Secondary
Women are now allowed to be so much more than an over sexualized object used only to hang applicable clothes. The clothes are accessories to the story in opposition to years' past and stories are being created for and about the women wearing them.
The impactful images capture the essence of the model or the character she is portraying and the fashion is secondary. It is more about conceptualizing a woman's perspective of the world and creating a moment.
Back To Film
Fashion is always looking for what is next and the surge of independent magazines have had a role in shaping the future. Many of the newer photographers in these magazines are women in their 20's and 30's who just happen to shoot film. The authentic aesthetic of film is being embraced and has inspired minimal editing and replaced unrealistic standards of perfection.
"And there are mistakes, which I do believe make the magic of a picture. It's much more than too much manipulation."
These women are being commissioned and their perspective is redefining antiquated ideals of age, beauty, femininity and sexuality along the way. If anything, it has given women permission to age gracefully, to embrace their power and to be as they are.
Not Just A Man's World
#MeToo and #TimesUp are pivotal moments in the fashion industry and we are seeing a massive overhaul of talent behind the lens and the way women are portrayed. The fashion industry has notoriously been known as a man's world; this change is monumental and a woman's viewpoint in all aspects is more relative than ever before.
"It's a different woman in front of the camera – and a different woman behind it."
Female photographers tend to approach sexuality in a more playful and non-offensive way and, as a result, the boundaries can be pushed. Women don't tend to think of other women as weak and submissive beings, therefore they don't capture them as such.
This shift is also being reflected in the works of some of fashion's leading male photographers. Like Helmut Newton, women are captured as strong beings with lots of eye contact regardless of what she is or isn't wearing; there is a level of respect for her.
Creating For Content
Social media has forever changed the way brands are engaging with consumers and how they spend the almighty dollar. Images from large budget fashion stories receive just as many likes as a model taking a selfie in a cool outfit.
As budgets continue to dissipate, the future of fashion will see an increase of models taking their own pictures to be used by brands as content. Campaigns and editorials will always have a place, however, the medium used to capture them and the capacity they are used in is shifting.
Fashion has and always will have an influence in society as well as photography and it is refreshing that more and more women are playing an active role in its future.
via: Vogue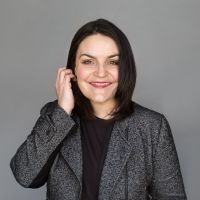 Brittany Smith
Brittany is a fashion and beauty photographer who works between NYC, Montana and LA. She photographs the way she has always wanted to feel and believes in the power of raw simplicity. When not behind a camera she can usually be found at a local coffeeshop, teaching fitness classes at the YMCA, or baking something fabulous in the kitchen. Instagram: @brittanysmithphoto