Welcome to Time Out with Tanya, where I've put my fast paced graphic design career on hold in favor of adventures in motherhood. I'm capturing every moment on camera and you can come along, if you'd like. Sign up for my weekly email here so you'll never miss a Time Out.
I'm fascinated by the personal projects other photographers choose to take on. Whether it's a seasoned pro or a total newbie, if they have a compelling idea and are expressing it through a series of photos, I'm intrigued. Today I'm sharing with you my interview with Rebecca Stephenson, a relatively new portrait photographer residing in Indiana.
Rebecca has been taking a series of self portraits of her little family, every single month. The fact that she's including herself in her photos is inspiring to me. When I die and my posterity looks back at family albums they'll probably wonder if I ever existed, because I'm not in any of the pictures! Moms around the world, we should get in front of the camera more often…
And now, on to the interview.
Tell me about your journey to becoming a photographer.
Ever since I was a kid I felt like I wanted to "collect" my favourite memories. I was born in France, spent my childhood years in Portugal and moved to Germany when I was seven years old. I only have very few pictures of myself as a child and I feel like I have seen so many beautiful things and have been so many places, that I wish I could have preserved those memories to one day share with my husband and my children. I almost felt like those memories got lost, and once I was old enough to work a camera, I became the annoying person shooting everything and everyone that would walk in front of the lens. I was shooting with my grandfather's old Rollei camera and I felt like a child on Christmas morning whenever I went to pick up my developed films. Of course, most pictures were blurry, out of focus and over exposed, but it didn't stop me from developing a true passion for photography. I have always been torn between working in a social field and expressing myself creatively, but with photography, I found the perfect combination of both aspects.
How did you come up with the idea for your personal project?
When I found out I was pregnant I knew that I wanted to capture my son's life in pictures from day one. Not only for me, but for him to see how much his family loved him. One day when I won't be here anymore to tell him how much he means to me, he can look at those pictures and know that his Mama always loved him and always will.
What's in your camera bag?
I am using my very loyal Nikon D80 which I received from my husband for my 21st birthday. He was deployed in Iraq at the time and I had just started going to college for a degree in Graphic Design and Photography. He supported me and believed in me from day one, and even though I will be switching to a full frame camera soon, I will always treat my D80 like a first born. I am using a Nikon 85mm f/1.8 and Nikon 35mm f/1.8 lenses.
What are some challenges you've faced with your Family Selfies project?
My favorite kind of photographs are candid shots, which truly reflect the subject's personality. I feel it's hard to get natural shots of my family with a tripod and reflector set up right in front of us while pushing the button of a remote. I believe that is why I came up with the idea to take non-traditional family pictures. I didn't want to basically take the same picture every month, but instead found that incorporating a theme such as vintage Christmas, the sixties or Halloween would capture our personalities best. We love to be silly and don't take ourselves too seriously. Another difficulty was to get everything set up just perfectly, getting everyone ready and getting the shot as quickly as possible — especially the winter portraits had to be taken quickly since we had to make sure that munchkin wouldn't get cold.
How has the project benefitted your business or yourself personally?
Since I am in the first year of my business, I am still in the process of getting my name out there and building a client base. We live in a rural area and just moved from Michigan to Indiana a little over a year ago. While this is giving me enough time to spend on my personal project, it is making it very hard to establish a successful business, but I think by sharing my family pictures I can show that I am a creative photographer, thinking outside of the box and having fun with photography. I am a very easy going, fun loving person and I hope that comes across in my family portraits. I want my clients to get to know me through my portraits and hopefully convince them that I am the right photographer for them.
From personal experience, It's not as easy as Rebecca makes it look to get a baby/toddler to sit still and look at the camera. (Speaking of babies, check out 5 ASPECTS OF NEWBORN PHOTOGRAPHY THAT ARE EASIER THAN YOU THINK) I think Rebecca has done a beautiful job here. Connect with her on Facebook if you'd like to follow her project.
CREDITS: Photographs by Rebecca Stephenson are copyrighted and have been used with permission for SLR Lounge. Do not copy, modify or re-post this article or images without express permission from SLR Lounge and the artist.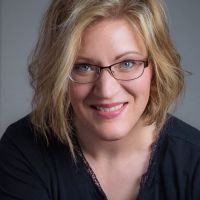 Tanya Goodall Smith
Tanya is the owner of WorkStory Branding Photography in Spokane, WA. Businesses hire her to create story-telling content that sells their high end products and services. She also teachings photographers her unique business model for making serious money as a corporate and personal branding photographer. Find her at
workstoryphotography.com
and
workstoryeducation.com