Ahh shallow depth of field, how many obsess over thee. That's not an exaggeration, and I know you won't begrudge me for saying we've all been there. Later, however, we appreciate the subtly of our craft, and that an out of focus area is not the be all of a good image.
That said, it still has its place, and sometimes all an image needs to really come together, and be something beautiful, is to remove the clutter of the surroundings via defocus, to highlight the subject. Sure, you could use a fast lens, a long tele, but there are times after-the-fact you may want to create a shallow or shallower depth of field, and Photoshop now has a few ways that allows you to do it, with a rather natural look.
In this video, Aaron Nace shows you how to use the tilt-shift tool in the Blur Gallery to give a gradient out of focused area, which is much more a natural look than a typical blur. The process is very quick, very straightforward. The only thing I'll say is that it will certainly work better on certain types of images than others…namely, I've found it depends on where precisely the subject is situated. Give it a shot, and if you fancy another method, the method I use most, check out this post.
As always, if you are a fan of Aaron's teachings (and who isn't?), be sure to check back here for updates, and follow along with Aaron on YouTube and Phlearn. You should also consider becoming quickly adept at Photoshop with the Phlearn Photoshop 101 & 201 sets as they are extremely comprehensive, and will have you quickly doing things with Photoshop you may have otherwise thought too complex, or didn't even know you could do.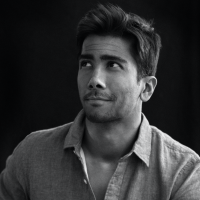 Kishore Sawh
A photographer and writer based in Miami, he can often be found at dog parks, and airports in London and Toronto. He is also a tremendous fan of flossing and the happiest guy around when the company's good.