Mariangela Abeo is a fierce woman, but also a woman who emanates warmth and compassion. She's blunt and to-the-point, yet kind and nurturing. She's a self-described mom-ager, having managed her rapper husband and ballerina daughter for years. And, she's immensely strong, as anyone must be to carry on after the tragic death of a loved one at their own hands. In freelance producer and photographer Mariangela's case, it was her only brother, who committed suicide 10 years ago.
If you've visited CreativeLive's Seattle studio to attend a class, you've probably met Mariangela. She's the initial point-of-contact for audience members, the one who will email you an invitation to a class if your application is accepted. It was with the support of CreativeLive, her family, and her friends that Mariangela was able to bring her Faces Of Fortitude project to life.
Mariangela started Faces of Fortitude to help herself and others who have lived through trauma involving suicide or suicidal ideation, heal. Spurred on by photographer Stacy Pearsall's after-hours talk on turning trauma into meaningful personal projects during CreativeLive's Photo Week 2017 (you can watch the talk for free here), Mariangela set out on an impressive task.
Although she'd put her camera down six years prior to focus on production work, she drew inspiration from the grief following her brother's suicide and her own attempt as a seventeen-year-old, she photographed 61 survivors over a little more than six months. She spent 178 hours photographing them all and another 100 hours processing the images.
The photos are stark, simple, and steeped in emotion. Subjects have described their session with Mariangela as therapeutic, as they are allowed to unburden themselves in the presence of someone who shares a similar experience, and within boundaries established before the session. You can see the relief of freeing their stories on some of the Faces, while others are twisted in the agony of retelling their life-changing loss.
These are regular people, people you may know if you live in the Seattle area or have stepped foot in the CreativeLive studio. But whether or not you believe you've ever met the 'Faces', you have. You've met others like them. Maybe you are one yourself. And that's the point. No one should live in fear of showing their very humanity. No one should believe they're alone in their feelings.
Faces Of Fortitude was recently honored with its first gallery show, held at CreativeLive. I had the honor of attending, and it was a moving experience. The turnout was huge, filling the designated space.
A few of the Faces spoke to the crowd about their experiences, both the ones that led them to Mariangela's camera and what it was like during the shoot. The space filled with emotion that ebbed and swelled as a room full of people empathized with the speakers through their pain and the love shared between the subjects and photographer was palpable. That may sound odd, but it was beautiful. 
From Mariangela's project, there are two important takeaways. The first is that you are never alone in your struggle. The human condition has never been an easy one, and today communities are paradoxically more connected and isolated than ever. People put their best faces forward on social media, the gathering space of our era, but often it's not really an accurate representation, leaving people feeling less-than when they can't match what they see.
Not only that but in a society where mental health is soaked in stigma, where every news-worthy violent act is blamed on mental illness, it's natural to put on a mask for your daily life to avoid being judged or even feared. When a room full of people are hiding their inner tumult, each feels that they are the only one suffering. Faces Of Fortitude serves to remove the mask of Mariangela's subjects, revealing the vulnerable truth and allowing the Faces to act as a mirror to the viewer.
The second is that you can create a meaningful project whether you think you have the skills (or the gear) or not. Mariangela wasn't known as a photographer before she started Faces of Fortitude but she didn't let that hold her back, and her work has already impacted so many.
We're all our own worst critics, and maybe even you're a real beginner, but don't let that stop you from expressing yourself with your camera, or through any other artistic means that calls. The passion behind a project like this propels the artist to keep going, and as they do they improve at their craft. If you think you aren't good enough, do it anyway.
The Gear
When asked about her gear, Mariangela was quick to stress that that's not the point.
"My sessions are conversations, and the photos are the bi-product. The project is so much more than the photos. I think that could be said about every themed photo project. Make it less about the photo itself and more about what or who you are photographing.

I want to know your quirks. I want to know your body language and what your tells are. I want to know what you dislike about yourself in photos so I can use my light and our conversation, to reduce the possibility of that happening. Let your subjects see your vulnerabilities so that they will show you theirs, and then do your best to assure them that you will display their heart in your photos, the best you can."
Nikon D2x (a gift from her father who was a newspaper photographer)
The Look
Faces Of Fortitude's black and white aesthetic serves a surprising purpose:
"I shoot in B&W for one main reason: Its safe to people. They can hide their sadness and tears in the shadows, and meanwhile, the shadows act as a hug or an embrace. Also, most people, when they get upset, there is something they dislike; they get a red nose, or blotches, or puffy eyes, etc. That can make people judge a photo. Black and white strips those details away, so the focus is the emoting itself and nothing else."
You can follow Faces Of Fortitude on Instagram and Facebook and read each Face's story as they are shared.
CREDITS: All photographs by Mariangela Abeo are copyrighted and have been used with permission for SLR Lounge. Do not copy, modify or re-post this article or images without express permission from SLR Lounge and the artist.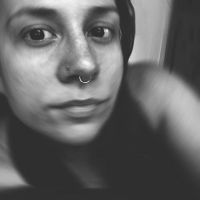 Holly Roa
Seattle based photographer with a side of videography, specializing in work involving animals, but basically a Jill of all trades. Instagram:
@HJRphotos