The capacity for fearlessness of the creative facility is always something astonishing. Joseph Chilton Pierce, the human development specialist, felt that in order to be creative, to live a creative life, the fear of being wrong must be lost. It was a concept almost immediately recognized by the art community as a truism. That makes creativity a very personal endeavor though, as it requires being original, and revealing yourself. This amplifies praise or critique, god forbid you should get it wrong. But as replication favors mediocrity, so does fortune favor the brave.
Catherine Nelson is the latter, and her creativity has been on the receiving end of critical compliments for a while. Educated in painting at the College Of Fine Arts in Sydney, she has been known prior in the photographic community for her suspended 360 degree 'globes,' and prior to that had her talents exercised in set creation for films such as Moulin Rouge, 300, and Harry Potter: The Prisoner Of Askaban. That's quite the caché.
[REWIND: Make Photoshop Files Viewable On Almost Any Device & Keep Data]
Specializing in the surreal, her 10 month labor of love series 'Expedition,' blurs lines between 360 degree photography, and beautiful painted landscapes.
The work seeks to subvert the traditional landscape with horizon and single vanishing point .Imagine the world as existing in a kind of dome, perceived from multiple vantage points and then flattened out. In this way, each image becomes a memory of a journey: looking up, down, out and across. So the place does not actually exist as such. It is somewhere between real and imagined.
The Australian native told SLR Lounge her works were inspired by her childhood memories growing up in the east coast of the country, and that influence is easily spotted given the lush, varied, and detailed compositions. Each of the 5 images in the series required hundreds of photos which were then combined to make a seamless single image. They are printed on a large scale where she says hidden details appear such as hidden snakes and bats. Even viewed small, the attention to detail isn't lost.
Thoughts
I'm generally a purist, and naturalist, who likes to find beauty in the way things actually are. That is code for boring, and as such, I don't tend to care much for what I would call photographic gimmicks such as 360 degree pieces, or anything so abstract I have to guess what's going on. That being said, apparently, I just hadn't seen it done very well until this. Nelson, I feel was very brave to go this route since similar pieces exist, and for some time. I just feel her eye and execution are better than most.
We have a painting in the family of a lush Caribbean countryside. I know this because it's not abstract, and the artist had the ability to accurately depict such a scene. It's timeless, for our old country home it's great, and I've always wanted one like it in my place. Yet the whole time I looked through this series I couldn't help but think I may want one of these more.
Please take a moment to treat yourself to the rest of Catherine's work which you'll find here.
CREDITS: All photographs shared by Catherine Nelson are copyrighted and have been used with permission for SLR Lounge. Do not copy, modify or re-post this article or images without express permission from SLR Lounge and the artist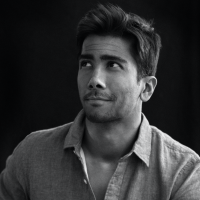 Kishore Sawh
A photographer and writer based in Miami, he can often be found at dog parks, and airports in London and Toronto. He is also a tremendous fan of flossing and the happiest guy around when the company's good.