In a previous article, we began the discussion on preparing yourself and your business for the arrival of a baby. We covered 7 things to consider from planning the pregnancy thru delivery.  In this article, we'll be delving into 7 more points to consider on life after delivery.
[REWIND: WHAT TO EXPECT WHEN YOU'RE EXPECTING – THE ULTIMATE GUIDE PART 1]
1. The Photographer's Life After Your Bundle of Joy Arrives
Nothing I say in this section is out of the ordinary regardless of anybody's occupation. You'll be happy, sleep deprived, in love, caffeine deprived, sleep deprived and sleep deprived.  As a small business owner, I always struggled with work/life balance. I could easily pull long days, ceaselessly editing all hours of the day or night, answering calls and emails as they came in, regardless of the time. This type of time management becomes interrupted with the needs of your little one. You'll find yourself trying to get short bursts of work wherever you can and whenever you can. This is true for the boys, too, as Ning of Ning Wong Photography shares:
It's crazy. Right when you finish feeding her, burping her, changing her, etc., you have another hour or two (if you're lucky) to get anything done. Then it starts over again. I feel like I'm stuck in Groundhog's Day. It's hard to get any work done because it's difficult to concentrate and get into a flow when you have to break it up constantly. Then night time comes, and you never get sleep!
[REWIND: 7 TIPS FOR AN EFFICIENT LIGHTROOM WORKFLOW]
2. Can You Maintain Your Original Pace?
So many photographers have reconsidered their careers and the amount of business they want to take on after the realities of child rearing have settled in. Even more of them have had to rethink their workflow. Both my children have entered the toddler age and I can tell you that the amount of interruptions in my day continue to increase as they go through each milestone from sitting up through crawling and it hasn't stopped as they got older. I have had to learn how to work efficiently in five minute bursts and have just recently admitted to myself that it was impossible. This year, I started sending both of them to daycare and preschool a few days a week just to buy myself some work time. But that's a large financial decision to make and a major decision loop. To afford the help, I need the work. To do more work, I need the help. For some, outsourcing post production work has all of a sudden become a necessity as Jeah Tan of JnJ Compositions shares:
I'm still having a hard time. I have no family here, my mother-in-law is in and out of the country, and my husband works all week which means, NO HELP! I have to wait until baby goes to bed before I can even do anything at all! It's driving me nuts! I'm still going to keep on with wedding photography, but I'll be outsourcing my photos and will only be designing albums from now on. I don't know if I'm even going to have time to blog, but I have to try and do so.
[REWIND: WEALTHY PHOTOGRAPHER'S BEST KEPT SECRET]
3. Family Time and Free Time
On the subject of family time, for us it's a matter of quality, not quantity. My husband works a typical M-F / 9-5 job. His weekends are my workdays and since I've got kid watch during the week and I shoot weddings on weekends, I technically have no days off. I've had to set rules for myself like turning off client communications after 6pm and pretty much implementing some form of office hours to guarantee that my family time is preserved. Weekend and evening portrait sessions have a higher fee. Weekends that aren't booked are treated like gold and engagements sessions are done during the week. Hoarding up on family time has become an obsession.
As for free time, well, I just don't even know what that is anymore. I remember the first time I realized I had lost that option was when I couldn't go to WPPI because it landed on my due date for my first pregnancy. I was viciously jealous of everyone else. I went through a period of feeling like I missed out on random shoots, get togethers and practice time. It took me the better part of a year to shake off the depression that came with that. For the parents of newborns, I highly suggest considering disengaging or minimizing time spent on social media. We, as a community, are highly engaged in the world of social media and I want to say that it was that very environment that contributed to my year of depression. Whatever free time you have, especially the first eight weeks when the baby's sleep patterns are at its most unpredictable, I suggest you spend it on yourself and on your family. Go decompress, get out, work out or get some sleep. You will need it.
4. Returning To Work
Jump in with both feet or take it one step at a time. Of course, the choice is yours. I myself decided that my first steps back into weddings were best spent as a second shooter. That first time away from my baby was a little distracting. I won't lie. I had hints of separation anxiety. I also needed to get my mind back into the game. One wedding as a second shooter was all I needed to get my jelly legs settled again.
[PRODUCT HIGHLIGHT: Learn how to take photos of your new little munchkin with the Newborn Photography Workshop Collection and Lightroom Presets]
 5. Maneuvering The Tricks of Breastfeeding
Now here's a funny, but not so funny topic. If you're a first time parent, breastfeeding is a difficult enough process on its own. When you have to consider managing this process in the course of a wedding day, then my giggles just start to bubble up. Here's my set of tips on this:
Get a hands free double breast pump. You want the most efficient mechanism there is. It's about time management and if you can pump both breasts at the same time, then it's a win-win.
Have a cooler with you to store your milk.
Practice the pumping and peeing at home. Don't laugh, this one is critical. Know that not all bathrooms have ledges for you to manage the tools you need to get this task done. Be prepared to do this standing up or in your car. It took some practice, but I got so efficient I could pump and pee in 10 mins flat. It was quite the accomplishment.
Bring a change of clothes and lots of extra breast pads. Leaking and spills are a reality.
Know your wedding timeline and discuss the need for breaks with your bride and the coordinator. I used to time my pumps so that I would have done it right before the shooting started, one right after getting ready or between ceremony and reception, once during the reception and one at the end of the day.
Don't be afraid to ask the banquet captain about using their freezer to store your milk. Some days are too long and the cooler you brought might not be cold enough especially on warm days.
Marisa Vitale of Love Light Images told me this funny story about breast pumping:
I had a funny situation at one of my weddings where I had to drive all the bridesmaids and bride to the wedding site. I told them it was fine as long as I could pump while I drove them all. One didn't get it and thought I was talking about "fist pumping", like yeah, let's get this party started! When we got in the car and I strapped my hands free pump bra on (vital!!), she cracked up.
6. Special Needs Children
When we plan our future, we of course consider the possibility that things won't turn out the way we want, but we hardly ever focus on the slim chances.  It's definitely something to be aware of, however, as Cassandra Bothello of It Takes Two Photography shares:
My oldest son is ADHD. Many people think that is no big deal, but I knew by age 2. It is why I homeschool. It has been a hard road and why I chose to put my photography work in the back seat of my life. The amazing part is I have been able to keep him medication free. I have other moms who are not photogs, but have changed their career paths as well because their kids have other special needs.
7. Husband And Wife Teams
I used to be envious of my photographer friends that were husband and wife teams until my friends Jasen Arias of Studio Moirae and his soon to be wife, Christy Shipp reminded me that husband and wife teams are at weddings together. Both parents out on a weekend means having to find someone to watch the kids…on a weekend. That's the most expensive form of childcare there is if you don't have family close by. Daycare centers and preschools work a M-F / 7am-6pm shift so finding help outside of that range is at a premium. Hard enough with one child, by the way, multiply that cost if you have more. And even if you had family close by, their availability isn't something you can or should count on. You certainly don't want to take advantage of their help.
Conclusion
Life definitely takes a turn when photographers find themselves expecting and you have to be prepared. My friend Derek of Frenzel Studios summed it up best:
You have to have at a minimum: a reliable second shooter, a fleet of babysitters to call upon, lots of support from your spouse/significant other- and preferably work with them as a business partner. You have to lose some sleep. You have to work very hard. You have to give up comfortability [sic].
Enjoy this little time lapse of life at my desk with two little ones to interrupt my work space.  What you don't hear is the non-stop conversation we're having and the meltdowns that keep erupting.  Two and a half hours real time (plus a break) in a real life zapped down to a blip.  I hope you don't judge my parental abilities too harshly.  Know that no children were harmed in the making of this short video.
Special thanks to Ning Wong for helping me put it together:
I hope this provided some insight and enlightenment for those of you on your way down the family path. Again, please submit your questions and share your own stories in the comment section below. Let's keep the conversation going and build a circle of support for those that are feeling anxious and overwhelmed. Let them know that they aren't alone.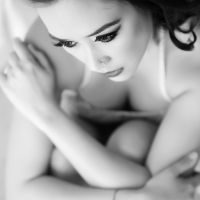 Michelle Ford
Michelle is a Southern California Portrait and Wedding Photographer. When she's not geeking out with a camera she's nerding out in her IT world. All other moments in the day are spent with her two wonderful children. See her work on
The COCO Gallery
check out her blog at
frexNgrin