The EOS M: A Case Of Too Little Too Late
Back when Canon first announced and then released the EOS M, back in late 2012, the photographic community was happy to see Canon finally enter the mirrorless market. But joy with the camera ended there. The camera was marred with a plethora of issues at launch, most notably a painfully slow, almost to the point of unusable, autofocus system.
The reviews came in and the reviews were unanimous, the EOS M was a dud. It had lots of advantages and bright points, but its flaws were tragically fatal. Most reviewers, and users, of the camera wrote it off and filed it into the do not buy category – especially at its original list price.
Fast forward several months and Canon finally released a firmware update addressing several of the flaws in the camera, namely the terrible autofocus performance. After the update to firmware 2.0.2, the autofocus speed improved dramatically, to the point of being usable in most situations – with exception to probably fast moving sports. Sadly though, it was too little too late, the damage had already been done and there were already better mirrorless offerings on the market. So, the majority of the photographic community again wrote off the camera, and filed it again under the 'do not buy' category.
Christmas 2013 rolls around, and with it a significant decrease in the price of the EOS M. Canon, and the retailers decided to cut their losses, and hoped to recoup what they could from the failed mirrorless camera. Prices were as low as $200 for the body only at some places, with the kit starting around $350ish. People began to take notice of this powerful little APS-C mirrorless camera again. I was one of those people.
Why I Bought an EOS M
Up until purchasing an EOS M of my own, my only camera – besides my phone camera – was my main body, a Canon 6D. A great full frame camera that I love and use for everything. But as part of my job here at SLR Lounge, I review lenses and other camera accessories, and it's hard to take a picture of a lens or accessory on my camera when I have to take the picture with that same camera. I was in need of a second camera, not only for still images, but also for video.
Upon looking at the market, I was sure that I wanted an APS-C camera, and I wanted something small. Also being as my primary camera was and is my Canon 6D, I did not want to spend a ton of money on a camera that I would not be using a lot. I just needed it for product shots and as a second angle for my videos. That was when I noticed the price of the EOS M, and it was hard to ignore.
I looked into the EOS M some more, and I found out that the AF speed was crap, but that was not a huge issue for me. Most of my product shots are manually focused anyways, and video is all manual focus. I took a look again at the market and the cheapest Canon DSLRS that I would even think of buying were up in the $600-700 range. When compared with the paltry $200-$300 I could spend to get the EOS M, It was not a hard decision.
I quickly decided that I did not want to bother with any of the special EF-M lenses, and so I opted to purchase the Canon EF Adapter. This would mean I could use all of my current lenses on this camera and not have to invest in more glass. I also found a great deal on the adapter and my total cost for both the camera and adapter were just under $300 – half of what I would have paid if I went with one of Canon's entry level Rebel DSLRs.
Why I Love My EOS M
The price is what got me to consider the EOS M, but using the camera is what has me loving it so far. When I received the camera, I was fully prepared to "deal with it" rather than enjoy it, but I was pleasantly surprised.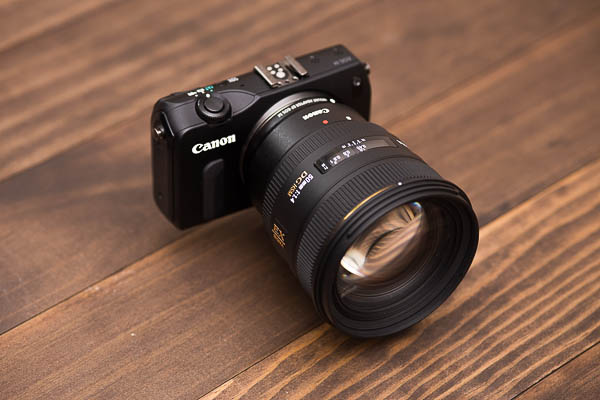 Is it a camera I would use in a professional setting like a wedding or a sporting event? No. I understand the limitations of the camera. That said, for my personal needs, this camera offers everything I needed for a great price. Not only that, but the image quality is great, as is the video quality.
I actually took the EOS M out to the wildlife refuge with me, alongside my Canon 6D and the Sigma 120-300mm F/2.8 lens that I am reviewing. I shot my 6D until my first battery died, and so I gave the 6D a break and threw the EOS M on that beastly Sigma lens. Once I got over how comical it was having such a small camera on such a monster lens, I took some images with then EOS M.
One Shot With Canon 6D and One with EOS M, Both Using Similar Settings and Shot with the Sigma 120-300mm F/2.8 @ 300mm (lens review coming soon)
When I got home, and processed the images, I could not tell (visually – obviously looking at the metadata gave it away) which images came from the EOS-M and which from the 6D. This is what really sold me on the EOS M for my uses. It may have flaws, but the majority of those flaws do not affect me and so long as I am aware of the camera's limitations and use it within its comfort zone, it will serve me well.
Who Should Consider The EOS M
Obviously, as most reviews of the EOS M state, this is not the camera for everyone. If you are looking for a primary camera, then I would suggest going a different route. But if you are looking for a cheap second or third body, or something to just take out on the town or on a family vacation, then I would really consider this camera.
This is especially true if you are already a Canon user and have Canon EF glass. Simply skip the EF-M lenses and buy the EF-Adapter. You can get those for a little over $100 new or there are quality knockoffs available in the $50 range.
In conclusion, I got this camera fully expecting to not like it very much.  This camera got a bad rep, but while its limitations prevent it from being as awesome as it has potential to be, it is still a very capable camera in many situations.
If you consider it, just keep in mind what your intended use for it is. If you can live with those limitations, as I can, then you will not find a better camera on the market for under $300.