How do SLR Lounge's best wedding photographers (the U.S. & Canada and International) edit their work? What software do they prefer? What do some of their before and afters look like? We asked, and they obliged. From Lightroom to Photoshop, along with a couple personal tweaks and software additions such as Alien Skin's Exposure and Totally Rad!'s Replichrome, read on for some insights into how top photographers get to their final images.
Ett Venter is a wedding and portrait photographer out of Pretoria, South Africa, and is known for being a master of light and for his solid portraits. For this image, Ett used twenty-three shots and stitched them together in Photoshop. And here's how he told us he did it:
Post was done in two steps. The images were first imported into Lightroom, where I did the basic RAW conversion and some of the colour work. Then the images were exported from Lightroom and then stitched together in Photoshop. Once the image was in Photoshop, I did a number of things: 1) Crop; 2) Dropped  the background exposure so that the couple could stand out a little more; 3) Added a warm tone focused in the middle of the image. There's a bright spot there which could look like a diffused sun, so I ran with it; 4) Dodged and Burned,and 5) Overall brightness and contrast adjustments.
You can see the source files and the stitch here:
Together with his wife Sandi, fellow SLR Lounge writer, Jay, runs Twisted Oak Studio (South Jersey) and is known for his storytelling approach to photography, and also his epic flares.
His photographs are a result of years spent mastering Lightroom and the added touch of Alien Skin's Exposure, which allowed Jay to nail down the look he was after; here's what Jay has to say about how he edits:
It wasn't until I found the editing software Alien Skin Exposure that gave me the ability to truly get the processing look that I wanted. I still use Lightroom for the majority of my editing, but Lightroom does a horrible job at sharpening and adding grain. You don't have any real control over the sharpening in Lightroom, and it's a big reason that a lot of photographers choose to use Photoshop. Alien Skin Exposure applies sharpening by a very similar technique, saving you those extra steps, and giving you a single slider. You can also choose to add to just the highlights or over-all. Adding grain via Alien Skin Exposure is also much easier and you have more control. Not only can you control the size and roughness, but you can also add it to just the shadows, midtones, or highlights.
In the images below (a recent family session featuring the incomparable photography duo from Abigail Gingerale Photography), you'll see Jay's before and after. He edited the image in Lightroom, then brought the images into Exposure using their LR plugin. Along with adding sharpening and grain, he also added a little color to the highlights using split toning.
And you can learn even more about Jay's editing process over on his blog: here!
Wayne La, based out of London, favors a film aesthetic. He achieves his look using Totally Rad!'s Replichrome, and the Kodak BW 400CN preset in particular, which you can see applied in this before-and-after:
And here's Wayne's thought process for this image:
Used in conjunction with Lightroom, Replichrome provides a powerful tool to create that film aesthetic, whether desaturated colors or deep contrasting monochrome. This image is artificially lit with typical hotel room lighting, providing a harsh, orange cast to the skin. I thought it was worth saving as the strong graphical composition gave it potential as a monochrome. An ordinary candid scene is elevated by the unusual angle, her expression, and the shapes she throws with her dress, all highlighted by the deep contrast of the black and white.
Gary Evans is from Kitchener, Ontario, Canada. He chases what he calls "wall worthy" photographs, and he loves that each photograph he delivers helps to tell a story that his couples can relive over and over again. This image was the result of his bride really wanting a sunset shot but, at the same time, being in the middle of a car park. According to Gary:
I knew I could do some kind of reflection shot and went and got the couple quickly before someone had decided to park there.  I love this shot as it was a wish of the bride to get a sunset shot and it needed creativity and vision to find a spot to be able to do it, not to mention a little bit of editing. It was taken between two parked cars with me lying on the ground to get the reflection.
Here's Gary's original image, which he edited completely in Lightroom (6.7):
CONCLUSION
What's your preferred editing software? We'd love for you to comment below with a before-and-after image. We welcome all comments and images that are positively framed and add to the betterment of our community. And, as always, feel free to continue the conversation over at Facebook on our every-growing SLR Lounge Photography Community page.
Cover Image by Ett Venter and images by Ett Venter, Jay Cassario, Wayne La, and Gary Evans, respectively, are copyrighted and have been used with permission for SLR Lounge. Do not copy, modify, or re-post this article or its images without express permission from SLR Lounge and the respective photographers. (Share the heck out of it on social media though!)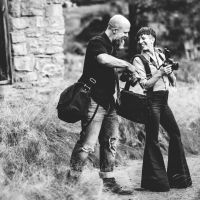 Amii & Andy Kauth
Amii & Andy are a wife and husband team of rad portrait and wedding photographers (Sunshine & Reign Photography) who absolutely love life and are generally just stoked! Yeah! When they aren't photographing or writing and teaching about photography, you'll find them off on a seriously legit adventure with their little ones, lifting weights in their garage, training jiu-jitsu, refining their archery skills, or surfing every chance they get. And on the rare chance they escape off on a "date night"? Yep! They'll find a wedding to crash (true fact). Website:
Sunshine & Reign Photography
Instagram:
@sunshineandreign