Once you start becoming meticulous in your imagery and post processing, it's inevitable that dust spots will be a constant annoying companion you'll have to deal with. Sure you get used to them, just like you can get used to a headache, but anything that alleviates the process of dealing with them is always welcome.
Photographer and retoucher Chris Lambeth has released the first of what he promises to be a series of short retouching tutorials. This one deals with an atypical way of spot removal. It should be noted that there are a hundred ways to do this, but this is probably one of the lesser known or used ways and that's probably because it uses Adobe's Content Aware abilities which weren't always around and continually improve.
The process is incredibly easy, and begins by using a new Levels layer to bring out, or bring into view, spots that you may not be able to see easily, but are there. Once the layer has highlighted the spots, you can use various tools like the marquee tool, or lasso tool to draw around the imperfections. Once selected, hit Shift+Backspace/Delete which will bring up your 'Fill' dialogue box where you'll select Content Aware, and let Photoshop do its thing. That's it.
Now, a few things to consider here: depending on where the location of the spots are, such as on the subject or somewhere finely detailed, Content Aware may not give you the desired effect, so that's something to look out for. In this instance, most of it was on a plain backdrop making it a breeze for Content Aware fill.
Also consider if these spots are spots on the outside of the front or rear lens element, or on the sensor. If it's dust on the lens then the spot locations are apt to change, but if they are actually sensor dust spots, then pretty much every image from that shoot, and possibly subsequent shoots, will have the same spots in the same locations.
So here's my tip: If that's the case, and say you were shooting a scenario just like the one Lambeth presents here of a model in the center of the frame with a plain backdrop, once you make the selection of all the dust spots, save the selection. Then you'll be able to rapidly load onto all other frames from the shoot to quickly dispense of the spots and monotony of manually going through the Levels layer and manual selection of spots in each frame.
Clearly, a clean sensor will obviate the need for this, but it's unlikely your sensor will be spotless all the time.
Chris does some lovely work, and you can find more from and about him on his site.
Source: Fstoppers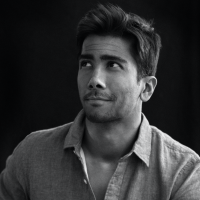 Kishore Sawh
A photographer and writer based in Miami, he can often be found at dog parks, and airports in London and Toronto. He is also a tremendous fan of flossing and the happiest guy around when the company's good.