We have repeatedly sung praise in the direction of the DXO One for about two years now, since its launch, and happy to say it looks better now than ever. DXO has launched an update for the DXO App which brings a bevy of functionality updates, finally made a version compatible with Android, and they've also launched some accessories.
Perhaps this biggest news about the DXO One at the moment is that it's finally available for Android, so in place of a lightning connector there will be a USB-C connector. This means that only newer models of phones will be compatible, but USBC is the way the industry seems to be going, and Android users will have a few weeks before this version goes live.
In addition to this revelation we were made aware that DXO has updated the accessories list and added new features. The most important accessory being a battery grip with which you can extend the life of your shoot for two hours, and the new feature of note is the ready-to-share timelapse video function. With auto-ramping to avoid flicker and the ability to shoot raw and produce 4K timelapses the DxO is even more flexible, and the videos are, as suggested, ready to share.
Last December DXO released a host of updates which included multi-cam Facebook Live functionality and brought WiFi to new units, as well as dropped the price by 20% permanently. The new app update sees to it the total multi-cam functionality is achieved.
"Its revolutionary Multi-Camera mode, which leverages the DxO ONE and both iPhone cameras, gives users the ability to experiment with shots that can't be captured with the iPhone's cameras alone, making it easy to create professional-quality video streams."

DxO ONE's Live Facebook solution offers a set of advanced controls, including a mini-control panel that allows the user to preview all three views to compose shots, adjust lighting, or prepare the subject before shooting and streaming live from different angles. Just like filmmakers, users can switch from one camera to another at the touch of a fingertip, as well as record sound from the DxO ONE's or the iPhone's built-in microphone, and switch the sound source during playback." – press release
The benefit of this should be relatively obvious if you're someone who uses FB Live. As many more creatives are realizing that video is given much higher preference in regards to Facebook's organic reach FB Live is being more widely adopted, and this will make yours stand out.
The price for the battery pack is $50 and the price of the DXO has remained unchanged at $469. Is it cheap? No, and it's generally considered a premium product, but you can read our review here and why we think it's worth it. For one, it'll do better than your iPhone 8…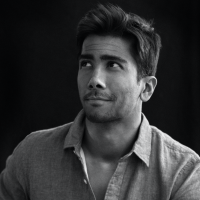 Kishore Sawh
A photographer and writer based in Miami, he can often be found at dog parks, and airports in London and Toronto. He is also a tremendous fan of flossing and the happiest guy around when the company's good.