Duet isn't a new iPad app and it's been written about on SLR Lounge before, but in case you missed it, it's a clever and inexpensive way to add a second screen to your desktop or laptop. If you've already got an iPad, there's not much reason not to spend the $10 Duet is currently priced to give yourself a little or a lot more real estate. And now, with its most recent update, it adds the new Touch Bar to any Mac to which it's connected.
To use the new feature, you need to be running Sierra 10.12.2, since El Capitan would just be like, "um, what's a Touch Bar?" Duet will still work with older versions of Mac OS as well as Windows, but the Touch Bar feature won't exist for you if that's what you're using.
Once you've got your OS situation figured out, you just download the app, download the appropriate desktop client for your platform, plug it in via Apple certified lightning cable, and you've got yourself a touch enabled second monitor. The Touch Bar is off by default, but if you're running Sierra 10.12.2 you can turn it on and then you'll see it at the bottom of the iPad screen and it will change as you use different, compatible apps. On that note, you may have to update your programs if it SHOULD have its own Touch Bar options but doesn't. Exciting news for photographers – Photoshop is one of the programs you can use with the Touch Bar, both Mac hardware and Duet software.
There is one more new feature in this update that goes hand-in-hand with the Touch Bar. On the new MacBook Pro laptops that have the Touch Bar, it sits right above the keyboard for convenience. This wasn't lost on Duet's developers, so they also added the ability to use a Bluetooth keyboard while running Duet.
If you haven't tried Duet yet but are interested in a casual dual monitor setup, I definitely recommend it. I got my first taste of Duet today and I'm hooked. Remember too it's usually $19.99 but is currently half price. Get it here.
Note: The following popped up when used with Photoshop, but in our limited testing it didn't prove to be a problem.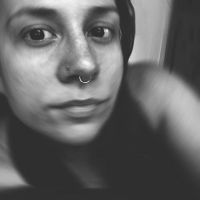 Holly Roa
Seattle based photographer with a side of videography, specializing in work involving animals, but basically a Jill of all trades. Instagram:
@HJRphotos