Traveling for leisure or for work provides unique challenges and opportunities for filmmakers. On the one hand, you are presented new settings in which to tell your story and, on the other hand, traveling with all the gear you typically use may be logistically unfeasible. If you're a one-man band on a budget, you'll need to learn how to compromise and improvise to make the most of what you've got in the field. Here are three tricks from  TheBuffNerds to help you shoot better footage while traveling light.
Your camera strap is a budget stabilizer and the salvation of your footage. By applying a little ingenuity, you can simulate shots that often require hundreds, if not, thousands of dollars.
Trick – 1

While wearing your strap around your neck, pull the camera forward until the strap is taut. The tension caused by pulling the camera forward will anchor your shot and eliminate a lot of camera shake. This is effective in creating stability while capturing shots closer to eye level.
Trick – 2

For lower middle shots the approach is the same, but you'll wrap the strap around your elbow and forearm to create stability while shooting from the hip.
Trick – 3

Finally, for those extremely low sweeping shots, you'll suspense your camera from the strap and create tension by pushing down on the camera. This will keep the strap taut and allow you swing the camera forward to stimulate a smooth dolly shot.
Bonus Tip – The effectiveness of all these techniques is enhanced by using lenses with Image Stabilization. I'll add that shooting at wider focal lengths makes it easier to stabilize your footage. As you can see, he has the Canon 16-35mm f4L mounted on his Canon 1DXII giving him both stabilization and a range of wide focal lengths.
While there are far more expensive solutions to create these shots, and their cost is justified, they didn't always exist nor were they financially accessible to budget filmmakers until recently. But resourcefulness and ingenuity have been available since films were first made and these are goods tips to remember.
RELATED ARTICLES
SaveSave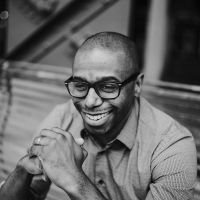 Wendell Weithers
Wendell is based in Atlanta where he shoots events, portraits, and food photography. He also supports his wife Andrea as she runs their cake design business, Sweet Details. Instagram:
Wendellwphoto