This article is part of our Gear Guides. We try to continually updates each article as new cameras are released, but if you feel like we've missed something, please comment below!
Introduction to DSLR Camera Bodies
The ability to record High Definition Video through a DSLR camera has changed the industry and the history of Cinema. Now consumers have the ability to get professional quality video, without having to spend hundreds of thousands of dollars. Although it is now more affordable than ever, careful consideration must be taken into account when shopping for a DSLR camera for video.
What are your needs? How much do you want to spend? Do you want to turn this into a career? These are some of the questions you'll need to be asking yourself when considering a DSLR camera for video. In this article we'll be discussing different bodies, their price points, and their strengths.
Under $1,000 DSLRs for HD Video
Canon T3i
The T3i is the best budget camera for DSLR video today. For as little as $500 you can get a fantastic DSLR camera capable of shooting professional video. It has a great 3 inch articulating screen, which is great for shooting low to the ground, or high above your head.
Although canon has released 2 successors for the T3i (T4i and T5i), they both use the same sensor as the T3i, so you're actually getting the same video quality. Canon still sells the T3i new, and the combination of price, image quality and versatility makes this camera a great buy. (More info on the Canon T3i)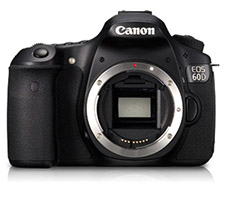 Canon 60D
After the T3i and rebel series, the 60D is a step up in professionalism in Canons DSLR camera line. The 60D has many more professional features without being much more expensive than the T3i. One of the most important features the 60D has over the T3i is the ability to control white balance manually (in Kelvin).
With the T3i you're limited to choosing a white balance preset (shade, daylight, tungsten, etc.), but with the 60D you're able to make very specific adjustments in Kelvin. The more video you shoot, the more you'll concern yourself with video color and aesthetics, making the 60D a great choice for people who want to be more invested in DSLR video. (More info on the Canon 60D)
Nikon D5200
Nikon's entry level DSLR camera is full of features that any amateur can be satisfied with. The D5200 also has an articulating screen, making it versatile for shooting high and low.
The surprising thing about the D5200 is the low light performance. The video you get from higher ISO's are clean and sharp, combine that with the price and that makes this camera a great deal. (More info on the Nikon D5200)
$1,000-$2,000 DSLR Camera Bodies for HD Video
Panasonic DMC-GH3
A camera that is often overlooked is the Panasonic GH3. The GH3 offers an impressive 1080 at 60 frames per second, and an equally impressive bitrate of 72mbps. The GH3 also significantly outperforms other cameras, with less moiré and aliasing it offers exceptional image quality.
What separates the GH3 from other cameras at the price point is that the GH3 was designed from the beginning to do video. For people who are considering filmmaking, the GH3 is a great option. At the price point, there is simply no better camera. (More info on the Panasonic DMC-GH3)
Canon 5D Mark II
The full frame sensor of the camera and having dedicated buttons (for iso, white balance, zoom, etc) makes this camera perfect for amateur enthusiasts and professionals alike. Take a look at the Mark III below for more information on the difference between the Mark II and the Mark III.
Canon no longer sells this camera new, although great deals can be found all the time on the used market. (More info on the Canon 5D Mark II)
Canon 6D
This is Canons most affordable full frame camera. One of the best features of the 6D is the ability to shoot at higher ISO's and get really clean video. This is especially important when shooting casually, shooting events, or any time when you don't have full control of the lighting in the room.
Although it does not have as many dedicated buttons as the 5Dmark II or III, canon has redesigned the Q button (quick menu) for video recording. For under $2000 you get a brand new full frame camera, with great video quality and great low light performance. (More info on the Canon 6D)
Nikon D600
The D600 is Nikons cheapest full frame camera, and it is also packed with useful video features. The autofocus can be activated during video recording by half pressing the shutter. You can have audio levels displayed on the screen while recording. And you can use both full frame and cropped lenses.
For Nikon shooters this is a great camera for those who are getting more serious about video. (More info on the Nikon D600)
$2000+ DSLR Camera Bodies for HD Video
Canon 5D Mark III
The 5D Mark III is a step up from the 5D Mark II in a lot of ways. It's a step up in clip length (30 minutes instead of 12), it's a step up in ISO performance, and unfortunately it's a step up in price. But what you pay for is what you get. The 5D Mark II was a great camera in terms of video quality, but there were some serious hardware drawbacks that filmmakers had to work around.
The 5D Mark III now includes; a headphone port for Audio Monitoring, CF and SD card slots, timecode settings for HD movie shooting, and a silent control touch-pad area. For people serious about DSLR video, the 5D Mark III has the horsepower you need for most video projects. (More info on the Canon 5D Mark III)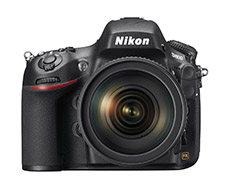 Nikon D800
The Nikon D800 has excellent video quality. There are a lot of fine details, great colors, and minimal rolling shutter effects. When recording at High ISO, the noise is very well controlled, making it possible to get great video quality even with little lighting.
Another great feature in this camera is that you can extract still images from your video and save them as a JPEG. The D800 is one of Nikons best still cameras, and clearly one of their best Video DSLR's. If you need great quality photos as well as video, the D800 is a great option. (More info on the Nikon D800)
Canon C100
When you feel like you've learned all that you can from a DSLR and want to take a step up in your filmmaking career, you have to consider the C100. Canon has made it easy for Video DSLR filmmakers by introducing the Cinema EOS line, a line of professional camcorders without the professional price.
The C100 shares the same lens mount as the canon DSLR's, so all of the lenses you've invested in can be used on it. It also supports HDMI outputs with a non-compression signal, built in ND filters, and two XLR audio connectors. When you've decided you're serious about making films, and want to take a step up from DSLR's, the C100 is the step up. (More info on the Canon C100)