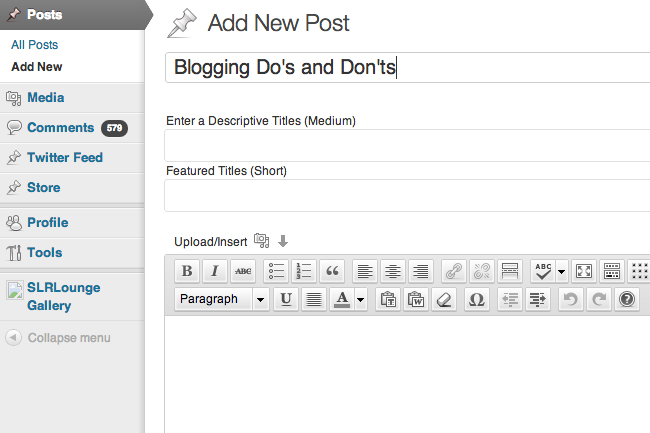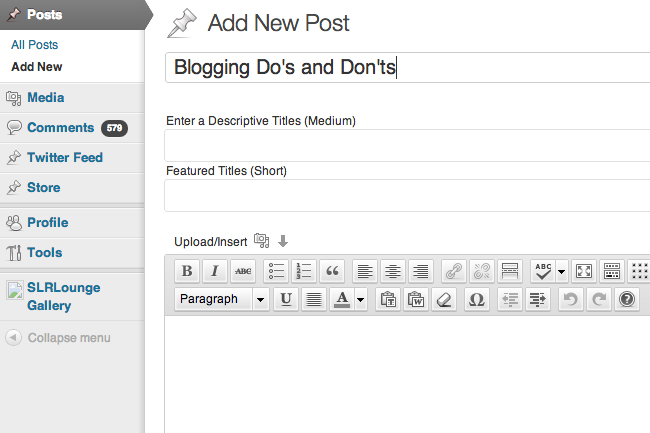 Just as every photographer needs to have a website, photographers also need a blog to showcase their latest beautiful imagery. And, if used correctly, a blog can strengthen your brand, making you stand out amongst the sea of photographers.
While custom blogs can cost equal to that of a latest camera body, some photographers meanwhile choose to customize a template. Using a blog template is fine, but only for a little while, says Renee Swigert of Ribbons of Red, a custom photography blog designer. "Once your photography business starts to take off – usually around the third year, you should shed your template and invest in a custom design," she suggests.  "Investing in custom design at the right time is extremely important because it keeps the momentum of your business on the upward swing. Sticking with a template too long, when your talent or business has outgrown it, can actually stunt the growth of your business."
Whether you have a custom blog or are saving up for one and currently using a template, there are a few things you can do to make your blog impactful and a few things to avoid to keep your blog visually appealing and not lose your audience.
Blogging Do's:
Keep all photos the same width on your blog whether vertically or horizontally.
Use bulletpoints and numbers to get points across easily for readers who want to scan for information.
Have a detailed and personal "About" page so potential clients can get to know you.
Update your blog regularly and make your stories engaging. "There is only one you, so work in your personality wherever you can, to try to establish connections with readers and potential clients," says Swigert.
Optimize your images for web to allow images to load faster. "If your blog loads slowly, people will leave your site. This can mean a loss of readers, clients (potential revenue), or both."  If saving in Photoshop, you can go to File > Save for Web and Devices to optimize your images for your site. Save images as JPG.
Blogging Don'ts:
Caption or comment about every photo before you introduce it.
Center your text. "Main blog text should always be left aligned," insists Swigert. "It's actually harder for people to read text when it's centered, and people read centered text much slower—even if they don't realize it. Main text should be left aligned to ensure your posts are easier to read. Doing this will help users read posts quicker, thus encouraging them to stay on your blog longer."
Simply post images without text. "While this may be acceptable to do once in a while, do not make it a habit. It's really important to write a story to support your images. It not only helps tell the whole story, but it helps your site's SEO."
Using your blog as a personal diary. "In order to grow your business, the majority of your posts should be photography and business related—not what you watched on TV last night. I encourage people to share a little bit about themselves, because that helps people get to know the real you, but it's really easy to overdo it," encourages Swigert.
Forget to use active keywords in your text for SEO.  If you shoot at a particular location, name that location and other session information to help with SEO.
When to consider investing in a custom blog
Standing out amongst peers is important to every photographer and a custom website or blogsite can help elevate a photographer's brand.  "Towards the end of year two or three, photographers should start thinking about investing in custom design," says Swigert.  "Templates are great for people in their first one to two years of business, but they will soon outgrow them. One website does not fit all, and there is nothing special about buying a website that everyone else can."
"The photography industry is the fastest growing self-employment industry in the US.  It's extremely important to differentiate yourself in order to stand out. Custom design not only helps you stand out from your competitors, but it also helps you connect with your ideal clientele."
To see custom work by Ribbons of Red visit www.ribbonsofred.com or follow her on Twitter.
Diana Elizabeth
Diana Elizabeth is a Phoenix-based wedding and portrait photographer who specializes in personalized, creative, and uniquely styled sessions. Visit her website at
www.dianaelizabeth.com
.