A year ago lmost to the day, the world of digital medium format was turned a bit on its head when Hasselblad announced their X1D-50c, which, in many respects, democratized digital medium format. With its small form factor it looked nothing like MF cameras that had come before it, and it also came at a price ($8,995) that was less than half the price of the other Hasselblads. Then, not long after Fujifilm announced their own 'affordable' medium format camera, the GFX-50S, at an even lower price point, further pushing MF out of the dreams of many photographers and into their hands – or at least within reach.
But a fundamental problem remains that has been highlighted by the new attention to the format, and that is simply that a lot of people, newcomers and accomplished photographers alike, have very little understanding about the type, or many misunderstandings. In the video below, photographer Lucas Passmore is trying to clear the air.
Passmore, an accomplished photographer in his own right, shoots a variety of cameras and formats, from Phase One MF cameras like the XF to more typical offerings like a Canon 5D Mark IV and for a variety of fashion-centric work. Here, with the team from Digital Transitions (the largest Phase One distributor), they attempt to de-mystify medium format for the 'uninitiated' and it's a good watch for anyone looking to get a better grip on the subject.
Those coming from a film background tend to naturally have more exposure to medium format as a format, but even then the advent of the digital types has changed it significantly. With so much more of the conversation these days going toward medium format it's good for one to become familiar with some of the generalities and specifics so one can join the convo, sort the wheat from the chaff, and perhaps even make wiser decisions on the gear required to get a job done, and thus better purchase decisions.
Admittedly, those with in-depth understanding of medium format will find this just a dip in those waters, and, in fact, some of the information is brought across in a way that's a bit too simplistic. However, the point here is to give photographers a functional understanding as to what medium format is about, why its relevant, the benefits and drawbacks, and so on. Check it out. And you can check out more from Lucas on his site, and Instagram.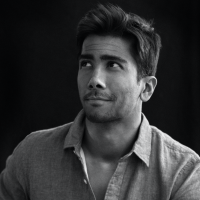 Kishore Sawh
A photographer and writer based in Miami, he can often be found at dog parks, and airports in London and Toronto. He is also a tremendous fan of flossing and the happiest guy around when the company's good.