As a photographer in today's digital age, it can be pretty easy to get lost in the shuffle. When you hop online and check out Facebook, Instagram, Twitter, SnapChat, and beyond…you're bombarded with promoted content and hundreds and hundreds of images every second. This is why i'm so impressed with the work that Dani Diamond has done over the last 18 months.  What exactly did he do in that nearly 2 year span? Well as he announced on his site and YouTube channel today, Dani took that time to make a printed portfolio. That may not sound that impressive with all the various services and print houses on the market, but if you take a moment to deep dive into his video, you'll find what sets him and his portfolio apart from the rest. Each and every single step was researched meticulously and made from scratch by Dani's own hands!
After working 10 years as a portrait photographer and building a massive social media following, he found that even though social is almost a requirement to be hired in the current "influencer market", there was something missing from the craft.
"People don't really appreciate the work like they used too. Now people are just swiping, and swiping, and swiping. They don't take their time to just sit there and analyze the image."
Attention To Detail
This is why he decided to build something from scratch with his new portfolio. As you can see in his video below detailing the entire process, it was a pretty grueling struggle, and a massive investment of both time and money. There were several times he wanted to give up, like when he started gluing the leather to the wood. I've personally never done this but from everything i've ever seen in documentaries and heard from those who do it for a living, it's not easy work. Especially since the covers Dani chose were so heavy. He also bought _and_ returned 3 monitors until he was able to calibrate the monitors accurately enough to get the prints looking right.
With this attention to detail, it's no wonder that when presenting his book to clients he's immediately landing the job without any additional negotiations. There's just something to having something physically in your hands, as a high quality finished product that sets you apart from the competition. While it's no way even close to what Dani's done here, I've noticed this simply by including a polaroid or fuji instax image in my headshot and portrait sessions to give to my clients as they leave, has increased my actual print sales and referral business. So presenting your clients with a book like this is sure to bring in some heavy hitting opportunities.
For those interested, In the YouTube description you will find links to the products he used and channel(s) he researched to do the printing from.
"I've taken my portfolio to meet potential clients and talent in my industry and I instantly get jobs from it. I don't have to do much talking at all like I used to. I simply hand them the portfolio and they spend 15 minutes turning pages and saying wow. It's the best investment I've made in my career not just business wise but for myself as an artist as well."

Although I've always wanted this portfolio I intentionally waited 10 years to make it. I wanted to accumulate experience and a killer portfolio. No one can ever take a printed portfolio away from you. Unlike instagram where they can simply disable your account and everything you've done is lost. 
I don't know about you, but this whole process is quite mind blowing and incredibly inspiring. At least to me as i've just begun messing with printing my own work on a Canon Pro-1000 so I can start to build my own physical print portfolio. Watching this video I realize I have a LOT more work ahead of me to get the level of perfection I want, (which is probably still only a fraction of what Dani's put into his book!).
Who is Dani Diamond
Dani is a natural light portrait photographer based in New York City and has been a writer & educator with publications like Fstoppers and PRO EDU.
Within everyone there are artistic skills that can be tapped into, but only those who are passionate and ambitious ever tap into that and become artists.

I wasn't born talented, I was born ambitious.
You can follow Dani on his Facebook Page, website, and Instagram, where he shares BTS and details about most of his images.
What do you think about his portfolio? Would you be impressed with the attention to detail that Dani's put into this if you were a potential client, model, or art buyer? Have you had experience making your own print portfolios? Let us know in the comments below
* All Images & video shared with permission from Dani Diamond. Do not share or edit the content without direct written permission from the copyright holder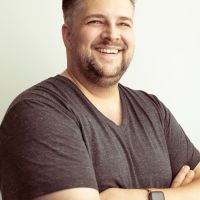 David J. Crewe
David J. Crewe is a full-time commercial photographer and Senior Editor with SLR Lounge. Based out of both Southern California & Las Vegas, Nevada. View his work and blog:
DavidJCrewe.com
Follow his Instagram:
@DavidJCrewe