In a matter of hours, after appearing on ABC's reality TV series, "Shark Tank," the "revolving" hands free panoramic photo and video app, "Cycloramic" by Egos Ventures shot to the top of the App Store Charts. If you haven't heard, "Shark Tank" is an ABC reality TV series that revolves around business pitches from aspiring entrepreneurs to a panel of potential investors, called "sharks." And in the latest and just-aired episode of the show, Cycloramic walked away with a cool $500K for 15% of their company.
What is Cycloramic?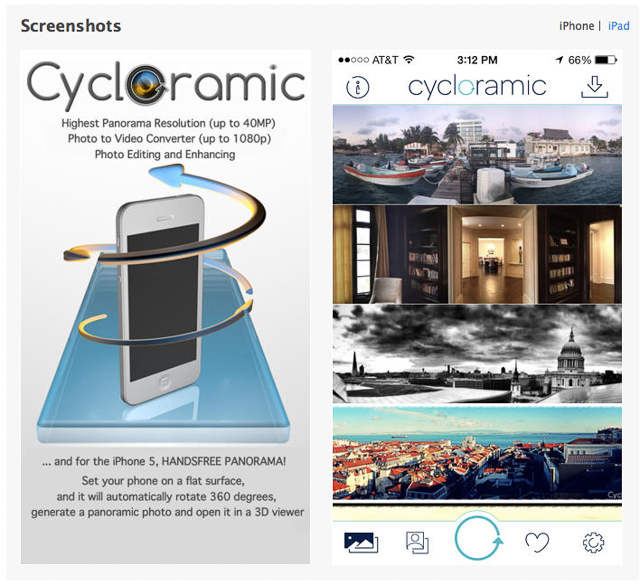 Cycloramic's main selling point is its hands-free operation, enabling one to capture panoramas by having the iPhone vibrate and automatically turn in a full circle. Check out this demo:
Watch the Cycloramic Clip on Shark Tank
According to data from Appstatics, its Studio 360 Panorama edition jumped more than 200 places to the No. 1 spot, and its Pro edition jumped more than 300 places to No. 2.
Main Uses of the Cycloramic App
The cycloramic app can be used for anything from travel photography to real estate photography.  With the increasing quality of mobile phones, this app can, under the right circumstances and uses, create photos for websites or other online media.
What do you think? Is the Cycloramic an app that you can use?
Alice Houstons
Photography has been a part of Alice Houston's life for over a decade now. Here at SLR Lounge, she prides herself on being a wealth of knowledge in the latest photography news and tech. Always searching and a self-described "Digital Nomad," she loves learning about those unique stories that inspire photographers around the world!