"A '365' Photography Project, you say? Oh, yes, let's commit to taking a picture relating to a specific theme every day for a year!" said every photographer who ever existed, right? I wonder how many continue past the first week of January each year?
I've always admired photographers who have the discipline to carry out a 365 project. I've tried and failed many times to take on such a project…So, when I heard that Karen Jacot had taken a creative photo of her son every day for seven years without fail, I was impressed.
Of course many tend to photograph their kids and family life for a 365 project, which would hold sentimental and personal value for individual families, but I find Karen's project, entitled CuriousLyle to have universal appeal. Perhaps because of the scope of it all, we get to know Lyle's personality and life story through the photos. Many of these aren't just snap shots, either. Karen's talent and lifestyle photography expertise shine through in every one. The mere fact that she's kept it going for so long intrigues me. Find out more in my interview with Karen…
Tell me about yourself and your journey to become a professional photographer.
I have always liked to document the things going on around me. With simple film cameras when I was a kid (it was the 80s…remember disc cameras??) and then eventually with my first (film) SLR, which I got in 2001. I took classes at the New England School of Photography (NESOP) in Boston, where I learned the technical side of photography. A few years later, I started to think that I could do for other people what I did for myself—photographing their families and documenting the interestingness of their lives.
Ah, the 80's. I had my mom's old Kodak 110 Film Camera back then. Good times! Do you specialize in a particular genre?
I photograph ordinary moments…the things that many people might not think to take pictures of normally. I photograph families being themselves, sort of day-in-the-life style. I spend a morning or afternoon (or longer) with a family to document their routines, their relationships, their everyday, and their adventures. I turn the photos into a book for the clients to keep as a story of their own…a perspective on their lives that may look different than how they picture it.
What prompted your Curious Lyle project?
I was pregnant and thinking about ways to document our child's life. I wanted to share photos with far-away friends and family without overwhelming everyone with baby pics. I liked the idea of one daily image—that way it was something new each day, but not too much to look through, since there was never more than one a day.
[Rewind: Story of a Mother's Love]
Random note: I designed the website myself, using photoblogging software as my content management system. I don't know much about web design but I spent hours reading about HTML and CSS online and piecing together enough to get the look I wanted. I had the main bits done and just a few things to finish up, and early one morning when I could not sleep because I was so uncomfortable being 39 weeks pregnant, I decided to just get out of bed and plow through the last parts of the site. I went into labor that day and had Lyle that evening. Finished the site just in time!
Wow! Sounds like this project was meant to be. Have you ever missed a day?
Once. One single day is all we've ever missed, and it didn't happen until six years in. Whenever I am not with Lyle, someone else takes the daily images. Each summer, he spends a couple weeks in Colorado at his grandmother's house, and she makes sure to take pictures each day. (Once I get them from her, I choose one per day and upload them to the site.) When I go out of town without Lyle, my husband is in charge of the photos, and it wasn't until last fall that he forgot to take pictures for one day. Needless to say, he was super (super) apologetic. I was upset that we'd missed a day, but I knew it had to happen sometime. It's the only day in more than seven years that we have failed to take a photo of Lyle.
Six years without missing a day is impressive. I have little children and sometimes forget to do things like eat and shower…What motivates you to keep going with the project?
A couple of things. Knowing that there are people (like his grandmothers) who are checking the site regularly is a good motivator. I like knowing someone is going to see what I post and that I'm not just putting it out into nothingness. Also, the idea of having this daily record of my son's life is motivating. And I've already done it for so long…it's a habit now, completely integrated into my routines. How could I quit now?
How do you choose which moment to photograph in your day? Do you generally have a specific time set aside for doing so?
It depends. Lots of times I just wait until I see a moment worth capturing. For years I have been carrying a camera with me almost everywhere I go—the library, the grocery store, everywhere—so I'm always prepared.
Sometimes it's almost the end of the day and I haven't gotten a single photo of Lyle yet, so then I have to be more proactive. Sometimes I'll just say, "We need to get a picture…let's go outside real quick." Sometimes Lyle suggests things to do for the daily photo. He loves for me to take pictures of him doing things like drawing with sidewalk chalk. He doesn't generally love being given direction, although he does like to come up with ideas himself. "Take a picture of me doing this!" he'll say.
He even helps me remember sometimes. "Mom, have you taken my picture yet today?"
Does Lyle ever refuse to have his picture taken?
Yes. There are definitely times that he doesn't want a camera pointed at him, and he makes it known. I usually just stop trying and wait for his mood to change or for another activity.
Does anyone else ever appear in the photos with Lyle? I scrolled through the last few months and didn't see anyone else. Is that part of the concept? I was curious to know if he has any siblings and if so, do they feel excluded from the project?
He's an only child. I sometimes joke that I couldn't have another kid because I wouldn't have time to do two daily photoblogs.
My original concept was that the photos be just him, no adults. Sometimes his friends make an appearance with him, but I've purposefully avoided including adults in the photos. (Faces, anyway…sometimes other bits of adults show up.)
As a professional, I find I don't photograph my kids as much because I feel pressured to drag out all my gear and make sure I'm creating a "technically" amazing photograph. How do you get past that expectation of yourself?
Part of my motivation to do a daily photo was specifically to escape the trap of feeling like every image had to be perfect or amazing. Some days I get several photos that I love and have a hard time choosing just one. Some days I get nothing I even like. But if I don't like it…that's ok. There'll be a new one the next day.
Speaking of gear, what do you typically shoot with?
My main camera is a Nikon D600. I use a few different lenses. The Nikon 24-70mm f/2.8 is my workhorse lens. Others that I use regularly: Nikon 50mm f/1.4, the Nikon 85mm f/1.8, and the Nikon 105mm f/2.8.
I also use the Fuji film X100S, a really fun little camera that blows me away with the quality of images it can produce. It's really easy to carry with me when I don't feel like lugging the big camera.
Oh, man, I'm drooling over the Fuji X100S. That's on my wish list! Scrolling through your images, I can tell this is an invaluable project for your own personal and family history. How have people outside your family responded? Why do you think your ongoing series has mass appeal?
Our families, of course, love it. Other people often tell me they are impressed that I've kept it up for so long. It's fun to find out that even people we don't know well (or at all!) have been following along on the site as he grows up. I think there is something appealing about a project that's simple and has longevity…these are moments from our day, not unlike moments from lots of other people's days all over the country. It's relatable, and people who have been following for a while (especially those who have followed since the beginning) feel like they know Lyle, even if they've never met him.
Has the project been a benefit to you professionally? Has it enriched your personal life? How so?
It has forced me to get more creative with my photography. This project was the first personal project I ever took on. I had previously photographed things that were interesting to me, but not with any real goal or purpose. CuriousLyle was my first project with established boundaries. Since Lyle doesn't change much on a day-to-day basis, and our daily activities don't usually vary much from one week to the next, I had to come up with ways to make what I hoped were interesting photos from parts of my life that didn't always seem very interesting. This has helped me to see the beauty in ordinary moments…the same things I like to show my clients now: the ways in which their ordinary days are really their extraordinary stories.
Plus I've ended up with a huge archive of photos of my son's life…that's pretty cool, too.
Any advice for those of us who might consider doing an extended project like CuriousLyle? I LOVE this project and wish I was disciplined enough to do something like it. I can't even remember to take a vitamin every day!
This made me laugh. :) I will tell you what I think the trick is: having a specific subject. Taking any photo every day for even a year? That sounds totally daunting to me. But knowing that each day I need at least one image of my son gives me something to focus on. (So to speak.)
To find out more about CuriousLyle, connect with Karen on Facebook. Have you attempted a 365 project? Were you able to stick to it? What was the subject matter? Please include a link in the comments or shoot me an email. tanya(at)slrlounge.com
P.S. I just finished watching and practicing some of the techniques in the SLR Lounge Newborn Photography Workshop. The tips in this workshop and the included Lightroom presets developed specifically for newborn portraits have really helped improve my portraits of babies. Click here to check it out.
CREDITS: All photographs by Karen Jacot are copyrighted and have been used with permission for SLR Lounge. Do not copy, modify or re-post this article or images without express permission from SLR Lounge and the artist.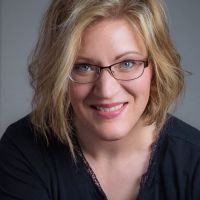 Tanya Goodall Smith
Tanya is the owner of WorkStory Branding Photography in Spokane, WA. Businesses hire her to create story-telling content that sells their high end products and services. She also teachings photographers her unique business model for making serious money as a corporate and personal branding photographer. Find her at
workstoryphotography.com
and
workstoryeducation.com