At times in your career, you'll get a call for a job that will make your heart beat faster and your pulse race. You know that it will change you, your perspective, and (not to mention) your portfolio forever. A dream job for a dream you didn't know you had, but always knew you wanted.
Photographer Clay Cook got that call recently for a fashion editorial unlike any other he'd ever been commissioned for. The publisher of The Voice of Louisville and Blue Equity, LLC had planned a twenty-page fashion editorial for a magazine feature of the rich culture, society, and government of Cuba. Clay and his team were tasked to take two five-day trips to Cuba – one for location scouting, finding models and planning, the second for the actual shoot.
Clay describes his first trip, "I quickly learned that Cuba was a visual paradise. The color, texture, automobiles and landscape was overwhelming; I didn't know where to focus. The sun began to peek through the clouds and set into the horizon, which covered everything with a red-orange blanket of color…I was blown away. I've seen a lot of stunning landscapes, but this topped the list. I felt a blast of untapped energy and vibrance."
After the first five day trek, Clay came home and chose his equipment accordingly. He ended up with a Phase One 645DF with an IQ250 digital back along with a Schneider Kreuznach 40-80mm f/4 zoom lens and a Schneider Kreuznach 110mm f/2.8 static lens, tethered to Capture One using Tether Tools. For lighting, Clay chose the Profoto B2 Location Kit for the ease of set-up and portability of the kit. "The Profoto B2 Location Kit was an obvious choice. We had to rely on the hard light of the sun, it was a risk, but a necessary risk. The B2 head through a Photek Softlighter would provide a soft fill to reduce shadow density caused by the hard sun." Packing it all in a Think Tank Photo Airport Security and a Think Tank Photo Airstream, Clay and his team set off for the second leg of this journey, the actual shoot.
The second part of the project was filled with challenges. The crew battled the heat, language barrier, equipment issues and governmental red tape, and photographed on military bases, the colorful streets of Havana, the shoreline, and rooftops for five long days. In the end, Clay says,
My body felt like it had been in World War III and my mind was burned. It was a bittersweet moment.

We celebrated the wrap with a late-night party on the roof with all the models, designers, hair stylists, makeup artists, assistants, government officials and advisors. The flight home was quiet, sobering and almost sad. I was happy it was over, but upset to be leaving Cuba and all the friends I had made. Cuba is changing day-in and day-out, but I think Cuba changed something it me. It was a breath of fresh air and opened my eyes to how much I truly love photographing people, and the art people create. I'm incredibly blessed to have that privilege, every single day.
See the first person shooter behind the scenes video and plus more from the fashion editorial below. To read Clay's full account of the project, check out his post here.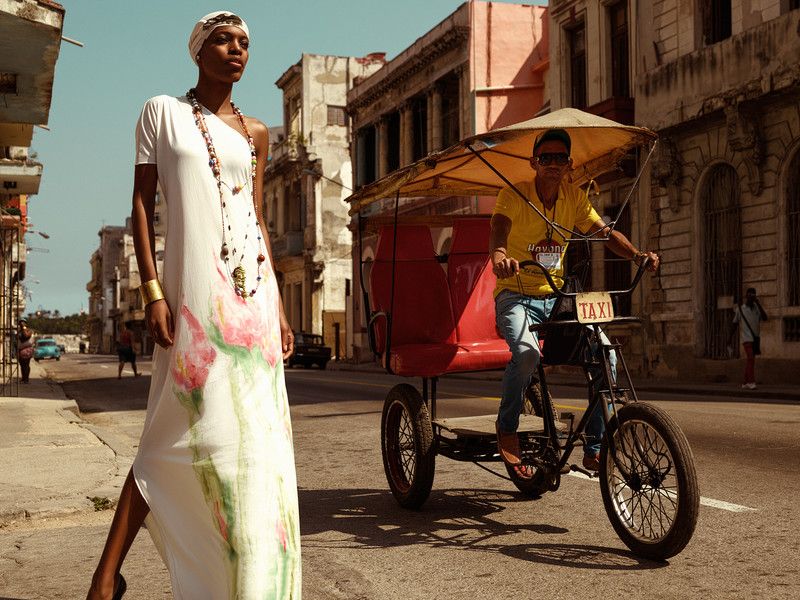 Hanssie
Hanssie is a Southern California-based writer and sometimes portrait and wedding photographer. In her free time, she homeschools, works out, rescues dogs and works in marketing for SLR Lounge. She also blogs about her adventures and about fitness when she's not sick of writing so much. Check out her work and her blog at
www.hanssie.com
. Follow her on
Instagram