With elections, Snapchat's new puppy-dog filter, and the Olympics, 2016 has been quite the year. As it comes close, CreativeLive releases its "Top 100 Life-Changing Classes of 2016" course list. 
CreativeLive, which is an online education platform, offers industry courses in categories such as:
Classes by photographers like as Sue Bryce, Joel Grimes, and our very own, Pye Jirsa, were rated as some of the best classes of 2016 for their simple yet effective and comprehensive guide to photography. Many courses, such as Incredible Engagement Photography (find here), teaches how to keep a creative workflow during a shoot, balancing natural and off camera flashes, teaching the importance of intention,  down to developing and post-processing.
With the choice of downloading the course or streaming it, CreativeLive has an app in the iOS, It also has Apple TV compatibility, integrating with all devices via handoff -i.e., if you happen to leave your office for lunch and the video was paused in another tab, your app will pick up where it left off.
Pye, as well as all the photographers aforementioned stress the importance of story-telling in photographs. Through CreativeLive's top courses and seamless experience, students, all the way to industry professionals, can learn in an environment where the lessons are also easy to follow, like a good story.
Have any of you tried the CreativeLive courses? If so, please let me know about your experience in the comments below.
To find out more about our contribution to CreativeLive, you can watch our courses here. A lot of the courses with CreativeLive are stemmed from the principles in Lighting 101, Lighting 201, and Photography 101. Check out the list at CreativeLive.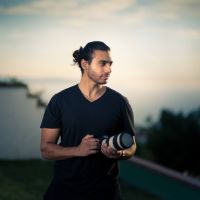 Bilal Akhtar
Bilal Akhtar is a 27-year-old LA native, who, when not taking photos, is using music, photography, and storytelling to create elemental art: www.instagram.com/theelementalarts To see his work, visit his commercial and wedding portfolios: | https://bilal.myportfolio.com | www.momentsbybilal.com | www.instagram.com/momentsbybilal www.facebook.com/momentsbybilal