We love using the sun to create what most photographers call 'starbursts' when creating portraits for our clients. And whether you call them starbursts, sunbursts, or just "bursts" (like us), we think you'll agree that they add that little bit of something to your image to take it from okay to rad. So grab your flash, and let's make a some epic bursts!
There was a time when we had no clue how to make the sun "burst" while still being able to see the faces of our subjects. We knew it was possible with natural light (and a massive cranking of your ISO), but, as we mentioned, we wanted to see the smiling faces of our happily married couples as the sun "exploded" in the background. The natural light approach left them looking way too dark for our liking.
That's when our good friend and one of our most favorite wedding photographers, Jadon Good of Jadon Good Photography came to the rescue!  He gets all the credit for this simple technique, which we asked him about as we were admiring (gushing over) a beautiful canvas he had up on the wall in his newly renovated studio space in Milwaukee's Third Ward.
Here's what you do: turn your flash to full power and take your f-stop down to f/16. It's really that simple. You also want to get that flash off your camera so you can better direct that light, i.e. make it obey!
Nikon D700, Nikon AF-S Zoom NIKKOR 17-35 mm f/2.8D IF-ED @ 35 mm, ISO 100, f/16, 1/200 sec, Alien Bee 1600 on Full Power (1/1)
Setting Your Flash
This is the easiest part. Set your flash to manual so you can choose the power. Set it to full, or 1/1. We have a lighting assistant who holds our Nikon SB 910 AF Speedlight off camera. Here's a tip: if you use a high-powered strobe, such as an Alien Bee 1600 which Jadon used for the above image, you can have your light source significantly further away from your subject(s)–and they will still be very well lit. That's it. Done.
Camera Settings
In order to achieve this effect, you have to understand how to shoot manually. Why? If you want to use your flash manually, you also have to shoot manually in order to set the aperture, shutter speed, and ISO to where you need it. (SLR Lounge's "Photography 101" can help you out if you already have no idea what we're talking about).
Okay now, second: aperture. You'll want your aperture to be somewhere around f/16. If you set your aperture higher, you'll get a lot of thin rays. And if you set your aperture lower (say f/10), you'll get less of a burst and more of a blur. That can look pretty dope, too; it just depends on the composition and what you're going for. Third, make certain you know the sync speed of your camera so that you don't exceed that and produce a shadow on the bottom of your image.
For example, we primarily shoot with a Nikon D750; the sync speed for this camera is 200. That means unless we high-speed sync, we can't push our shutter speed over 1/200th of a second while using flash or a shadow will show up on our images. And finally, make certain your ISO is as low as possible. An ISO of 100 generally works great as you'll have flash hitting your subject(s).
Shooting Technique
There are only two things you need to know here: the sun has to be out so that you have something to "burst," and make certain your flash is bright enough to light up your subject(s).
Conclusion & Some Of Our Images
We're big fans of the concept, "if you know what you like/what looks good to you, be free to experiment and break the 'rules' of photography." At the same time, you may want to learn some off-camera flash basics to give you a foundation. SLR Lounge will even hook you up with a free webinar: "Off Camera Flash Basics."
Here are a few of our recent images where we used the technique we described and the settings below.
Nikon D750, Nikon AF-S NIKKOR 50 mm f/1.8G, ISO 50, f/9, 1/200 sec, Nikon SB 910 Speedlight on Full Power (1/1)
Nikon D750, Nikon AF-S 50 mm f/1.8G, ISO 100, f/16, 1/160 sec, Nikon SB 910 Speedlight on Full Power (1/1)
Nikon D750, Nikon AF-S NIKKOR 50 mm f/1.8G, ISO 100, f/16, 1/200 sec, Nikon SB 910 Speedlight on Full Power (1/1)
Questions? Comments? We'd love to hear from you! Leave a comment below or hit us up on Twitter: @sunshinexreign. And we'd love for you to check out Jadon on Facebook because he rocks!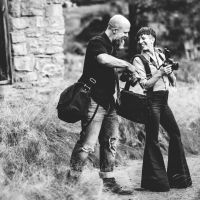 Amii & Andy Kauth
Amii & Andy are a wife and husband team of rad portrait and wedding photographers (Sunshine & Reign Photography) who absolutely love life and are generally just stoked! Yeah! When they aren't photographing or writing and teaching about photography, you'll find them off on a seriously legit adventure with their little ones, lifting weights in their garage, training jiu-jitsu, refining their archery skills, or surfing every chance they get. And on the rare chance they escape off on a "date night"? Yep! They'll find a wedding to crash (true fact). Website:
Sunshine & Reign Photography
Instagram:
@sunshineandreign