It was nearly 25 years ago that Kate Moss took the world by storm and redefined the parameters of what it is to be a super model. She has since worked with some of the most coveted fashion houses, influential photographers and starred in hundreds of magazine covers throughout her prolific career. Amidst thousands of frozen frames is a seemingly simple shot captured by Albert Watson for Vogue Germany in 1993 that she deems as "among the best pictures ever taken."
Watson was working on assignment in Morocco when he received a request to photograph the up-and-coming model. Bare beauty was at the center of the simple brief with a focus on Kate's grace as she learned to love the camera as much as it loved her.
Albert Watson is a master storyteller and uses light to shape the narrative. He has an innate ability of quickly connecting with his subjects, conceptualizing an idea and directing them into something extraordinary. The minimal styling of this particular shoot combined with Kate's looks reminded him of a fairy in the woods and he used that vision as a way to direct the young model.
"You look like a wood nymph or a fairy in the woods, maybe you can think about that […] you're crouching down and you're a little bit nervous looking for something." – Albert Watson
Exercising his signature simplistic style, Watson captured an iconic and beautiful image of a young Kate Moss cloaked in direct sunlight on top of a rooftop in Marrakech. His form of simplicity is an art of deception; what appears to be effortless is anything but. It is a skill that was acquired from years of practice and continuously fine tuned with precision.
Watson maintained the established mood when the production moved indoors by creating a lighting setup that mimicked the way the natural sunlight feathered across her delicate body earlier in the day. The emphasis on Kate's natural beauty with very little styling allowed him to move from shot to shot with ease.
Albert fondly recalls that the entire shoot was a 14 hour long production in the following video from Profoto. At the end of the shoot Kate whispered to him that it was her birthday, a day that surely neither one of them will forget as it was then that a star was born.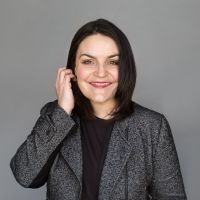 Brittany Smith
Brittany is a fashion and beauty photographer who works between NYC, Montana and LA. She photographs the way she has always wanted to feel and believes in the power of raw simplicity. When not behind a camera she can usually be found at a local coffeeshop, teaching fitness classes at the YMCA, or baking something fabulous in the kitchen. Instagram: @brittanysmithphoto