It's said all the time, the truth is you really only need one light to create beautiful portraits in the studio or on location. From the experienced photographer to the aspiring professional, mastering how to using one light is crucial.
In the Bowens sponsored video below, Tony Corbell shows you that using one studio strobe and two black and white fill cards can yield beautiful results.
Technique
Tony really does a nice job of breaking down his technique. By positioning the light 45 degrees up and 45 degrees to the camera, you're creating very soft wrap around lighting. This lighting creates very nice shadows and light fall off, giving your subjects face depth, shape and dimension.
Tony uses 8×10 white and black fill cards to control the shadows on his subject's dress. When he wanted to showcase the dress, he used the white card to bounce the light onto the dress illuminating it. When he wanted a darker, more dramatic image, he used the black card to create a shadow on the dress bringing your attention more to his subject's face.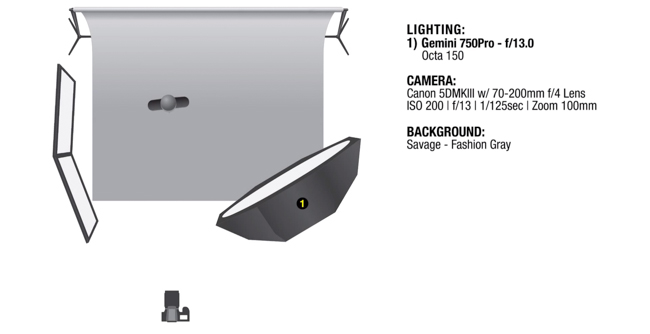 Thoughts
I'm a big fan of one light, because when done correctly, it always produces great images. When I was first starting out, I didn't have a lot of money to spend on lighting equipment, so I was forced to learn how to get the most of out my one speedlight and umbrella. Now that I have more lighting equipment, I still find myself going back to using one light all the time. I just love the simplicity. Also, don't think that using one light should be limited to a studio, you can easily use the technique on location as well.
Via: Bowens Youtube Channel, Images via screencaps.
Chris Nachtwey
Chris Nachtwey is a full-time wedding and portrait photographer based in Connecticut. He is the founder and creator of
35to220
a website dedicated to showcasing the best film photography in the world. Chris loves to hear from readers, feel free to drop him a line via the contact page on his website! You can see his work here:
Chris Nachtwey Photography