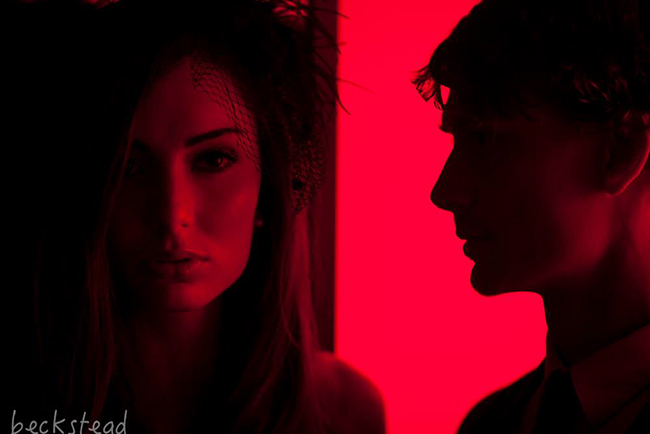 My favorite part about photography is learning, exploring, discovering, and connecting with other photographers, which is what WPPI is all about! I sat in on David Beckstead's Master Class Loco Light! Getting Crazy with Videolights and it was so much fun. David showed us how to use several different video lights, and even common flashlights, to create some fun and funky shadows and dramatic lighting.
I've been following David Beckstead on Facebook for a while now, and the over-the-top, playful personality he portrays online is totally authentic to his nature in person. "I want to WOW people," he said to the overflowing class, "and I want to have fun!" David likes to play with light and shadow on-location at weddings and he doesn't shy away from hard, bright sunlight and harsh shadows, or anything else that's considered a no-no by the photographic community. When light and shadow aren't available, or when he has some down time and wants to play, he pulls out his arsenal of lights and random-found objects to create his own playful looks.
David is an acclaimed international destination wedding photographer. Having traveled to over 80 countries, he likes to travel light, which is why LED video lights and flashlights have become an important part of his photographic toolbox. He's been studying the black and white photographic masters of the mid twentieth century, like Man Ray and Richard Avedon, who would cast shadows to create interesting compositions in their portrait and fashion photography work. He often shoots with his camera in black and white as an exercise in training his brain to see light and shadow.
Here's a look at some of the lights David showed us in the class and the affects you can get with them.
Flashlights
David is a self proclaimed flashlight junkie. He has cheap flashlights and more expensive varieties. You can find options for any price point at B&H Photo. He says regular flashlights create amazing shadows. You can gel them for color or shine them through a variety of items to create textural shadows. He uses 5000k (white light) or 3000k (tungsten, warmer light) flashlights most often.
Video Lights

Another affordable option, video lights can be lightweight and small so they're easy to pack in your bag. A regular panel video light is best for back lighting or lighting a background, and in his opinion aren't often great for lighting the face. The Rotolight is a small ring light that is fairly bright and super small and portable.
Specialty Lights

Spotlights can be more powerful when you need more light and many give you the option to dim or focus the light, change the temperature, or direct the light with built-in barn doors. David showed a Tiffen spot light, the Dedolight by Ledzilla and the ever popular Westcott Icelight, all available at B&H. While more expensive than other options, David is a believer of "you get what you pay for" and insists the quality of light in the higher end is definitely better.
If you're dying for one of these more expensive lights, don't forget to enter our giveaway for an Icelight2!
Getting Creative
David brought a variety of household and craft-store items to play with. His motto is, just have fun and try it out, it might work, it might not. Here are a few things he used and the effects you can get with them. My behind-the-scenes photos were all shot with a Samsung Galaxy S5 phone camera.
Want to know more about David Beckstead's incredible techniques for unique, dramatic and fun wedding photography? His new book, The Beckstead Wedding, is available on Amazon. Click here to check it out.
Most of the lights David used in his workshop can be found at B&H Photo, and we would like to extend a huge thanks to B&H for sponsoring SLR Lounge at WPPI this year, and because of them I'm scheduled to learn from a couple more photography masters today, so stay tuned for more awesomeness.
CREDITS: Photographs by David Beckstead are copyrighted and have been used with permission for SLR Lounge. Do not copy, modify or re-post this article or images without express permission from SLR Lounge and the artist.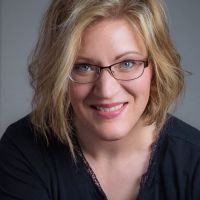 Tanya Goodall Smith
Tanya is the owner of WorkStory Branding Photography in Spokane, WA. Businesses hire her to create story-telling content that sells their high end products and services. She also teachings photographers her unique business model for making serious money as a corporate and personal branding photographer. Find her at
workstoryphotography.com
and
workstoryeducation.com