There's a new version of Photoshop CC waiting in the wind, and that's exciting. But perhaps even more exciting is that Photoshop's Product Manager, Stephen Neilson, has said, "A major release of Creative Cloud is on the way." What could that mean? Is there going to be an overhaul to the suite of applications? Or is this Photoshop version going to be so significant that it merits language that strong? Well, if the preview is anything to go by, it will be welcomed with open arms by the photography community.
Content Aware has turned out to be Photoshop's real transformation trick; originally a resented ugly duckling it has blossomed into a highly regarded swan that just keeps getting better with each iteration. A few years ago you really had to consider whether it was worthwhile to employ, but today, for many, it's an indispensable ability that finds its way into a few Photoshop tools. Now, we are being teased with Content Aware Crop, and it looks brilliant.
Essentially, what this new feature will do is allow you to move your crop box as you like, rotating and straightening at your will, and instead of restricting the crop size to fit within the given borders of the image, it will simply let you move those borders and expand the image, filling in the blanks.
The example shown in the video is, perhaps, a frustration almost all of us have had; straightening an image and through the rotation much of the image is cropped out. With the new Content Aware Crop tool, Photoshop promises this will be an issue of the past.
But will it?
Photoshop's new features have, on occasion, not worked quite like we'd have hoped, and being a sort of predictive software algorithm, it lays at the feet of repetition – which is why Content Aware is great for open spaces and skies, but you can't use it in a 'crowd'. However, there's no denying that this is an exciting feature that will make life just that little bit better. The question is, has Adobe just passed off the main dish as an appetizer of the new release, or is there more meat to come?
Check out the video below, and we'll keep you posted whenever a new update arrives. If you'd like to learn more about Content Aware, check out this article.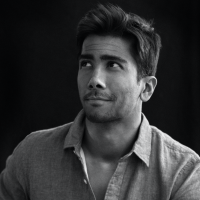 Kishore Sawh
A photographer and writer based in Miami, he can often be found at dog parks, and airports in London and Toronto. He is also a tremendous fan of flossing and the happiest guy around when the company's good.