How Do We Get People To Talk About Us?
This is my first article for SLR Lounge, and I am excited to be a contributing writer!  My first piece of advice? Get to know your clients!  It could make the difference in the experience you have with your client being a generic one or telling their story.
In a world of digital technology, people rarely pick up their phones to talk.  Quick email transactions, text messages or instant messaging have become the way to communicate.  Very few of us take the time to connect on a deeper level when chatting through email.  But why do we settle for quick and easy when what we need is to build relationships and foster their growth?  The most successful businesses thrive on word of mouth advertising which poses the question, "How do we get people to talk about us?"  The answer is simple.  Set yourself apart, create genuine bonds with your clients, and exceed their expectations. 
Kara's Maternity Session
Kara contacted me about photographing her maternity session.  Hearing her tell me the story of how two previous pregnancies had both resulted in miscarriage absolutely broke my heart and allowed me to connect with her on a deeper level.  She told me that she was currently pregnant with twins and that this pregnancy had made it further than both of the two previous ones. 
Immediately, I knew that I wanted to somehow incorporate the "Rainbow Baby" concept into her newborn photo shoot.  So, I asked her if she had heard of Rainbow Babies to which she replied that she had, and would love for me to incorporate it into her session.  Up until then I had only seen pictures of babies wrapped in various colors of the rainbow and knew that I wanted something more unique.  I wanted something more Fine Art, something that told a story within the story.  But, I would need some time to ponder on it. 
What is a Rainbow Baby?
Rainbows are a symbol of hope after the storm and Rainbow Babies are born into the world after a miscarriage or stillborn baby.  Rainbow Babies are that symbol of hope for a family that has suffered immeasurable pain after one or more losses.  In Kara's case, she had suffered two losses and now was being blessed with twins.
As her maternity session approached and we discussed all of the options for a glam studio session, I couldn't shake her story.  It kept me up at night hoping and praying that these new lives would make their way into the world untouched by harm and that this family could finally receive the miracle of life.  I knew she would be an incredible mother from our conversations, nurturing and funny.  I wished endlessly for a positive outcome while obsessing over how I could create something that told her story. 
A couple of nights before her maternity session and whilst laying in bed trying to sleep, it occurred to me that the Rainbow Baby concept didn't need to be limited to newborn sessions.  But the idea I had felt like an impossible task to pull off under the time constraints.  The impossible is a challenge that I welcome and embrace because I refuse to allow fear of failure to hinder my creative process. So my partner and I immediately put the plans into motion.  We went shopping, dyed fabric, convinced our landscaper to let us borrow his 25 ft. tall ladder, and started creating our set.  Kara had no idea this was happening and I had no idea if she would even go through with it.  But, I had to create it.  I had to bring it to life.  And I had to trust that she would trust me when I explained the concept to her. 
In order to accurately tell Kara's story, I knew I had to incorporate all 4 of her babies into a single image somehow.  Losing the lives of two children doesn't mean that they are no longer her children or that somehow they are being replaced.  Incorporating the two babies that came before this pregnancy was something I intended to do symbolically through art rather than with sonogram pictures or something of the like.
When she arrived, we did her glam studio session first and then I asked her to do something that might require her going a bit out of her comfort zone.  I loosely explained my concept to her and with complete faith and trust in me due to our many deep conversations and my genuine care for her, Kara walked into my backyard and took 3 steps up the ladder.  She extended her arms as we draped rainbow colored fabric around them and one by one, lifted her feet while I shot multiple frames.  Here was my vision coming to life.  This was the story I dreamed of.  This was her story.
Kara's Story
Art is subjective, but for me, Kara had to be suspended in the air as if she was letting go and giving in to the plans the universe had for her new babies. There couldn't be tension on the fabric because I wanted it to look as though she were in limbo.  This gives significance to not knowing whether the pregnancy would go full term or end as the previous ones had.  Her arms are outstretched as if to say "I surrender myself to you." She is looking up with hope in her eyes but with a solemn expression as the future was uncertain in that moment. The two rainbow circles of flare that surround her are the auras of the two babies that while lost will never be forgotten. Those angels will look over and protect Kason and Campbell as they make their journey through life.
After I posted this image on a few groups, it was featured on multiple pages, re-posted in numerous groups including miscarriage groups and was shared from my business page over 250 times.  More than 200 women have emailed me to tell me that my image has given them hope that their rainbow baby will come one day.  It has inspired people all over the world.
But most importantly, Kara has all 4 babies remembered in this one single image.  She cried happy tears and thanked me for giving her the gift of an image so powerful.  If you were wondering, Kason and Campbell made their way into the world and are healthy miracles.  We tied the Rainbow Baby concept seamlessly into their newborn shoot in a way in which both pieces could be hung side by side on their wall. 
Going above and beyond is part of my brand.  That begins with forming genuine connections and making each client's images mean something to them and it never ends.  If it does, I might as well put the camera down and stop shooting. To see these images and more of our conceptual work, follow our Facebook page.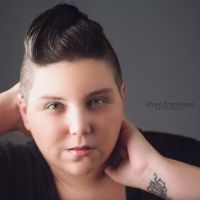 Alicia D'Amico
Alicia D'Amico is a Portrait, Fashion, Underwater and Wedding photographer based out of Tampa, Florida. She and her partner attract clients from far and wide that want a unique photographic experience. Her work has been featured on numerous magazine covers and featured editorial spreads. Alicia loves to travel the world, teach others, cuddle on the couch with her puppy and enjoys fun game nights with her closest friends. To see more of her work or find out about her mentoring, visit her
website
,
workshops
,
Facebook
and
Instagram
.