Shooting at the Langham Huntington Hotel
I was invited to shoot in the gorgeous Georgian Ballroom at the Langham Huntington Hotel in Pasadena California. This was a stylized reception shoot coordinated by Jill at the Langham, designed by Jeanette at Elegant Designs, and detailed by Lisa at Ixora Florals.
Watch The Langham Huntington Hotel Video
The Challenge
We wanted this room to look full, but we only had three tables and 3 centerpieces to work with, so what do you do? You get a decent tripod (we're using the MeFoto Globetrotter), you choose your composition, and you take a composite shot.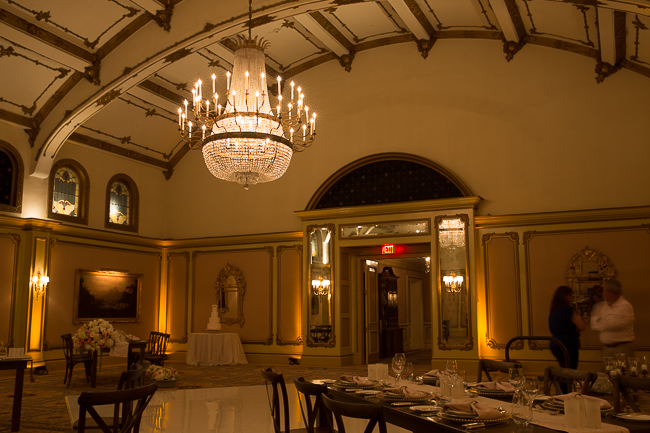 The Equipment We Used
Canon 5D Mark III
Canon 24-70mm f/2.8 II
Canon 85mm f/1.2 II
Mefoto Globetrotter Tripod
Lowel GL-1
Westcott Icelight
The Composite Process
Since we're shooting a composite we have to decide how to align the tables and where to place them. We also had a couple options in terms of which centerpieces, candle or floral, we wanted on the front table. After hearing everyone's opinions we all decided that the floral centerpiece would be the best choice. This was also the hotel's favorite choice as well, which is what really matters.
We also had a couple options in lighting. I brought both the Wescott Icelight and the Lowel GL-1. I ended up using the Lowel GL-1 because it gave me the reach I needed, and I was able to light the centerpieces and the back walls of the room while standing about 40ft away.
To see the entire shoot, along with each piece of the final composite, please watch the video above. The collage below shows each piece of the final composite.
The Final Image
After we do some color correcting in Lightroom 5 using the Lightroom Preset System, we threw our images into Photoshop to begin the simple masking and layering process. We started with a sparse room, but with basic composite techniques, clever lighting, and some patience, we're able to pull off an amazing image to wow the property along with our fellow vendors.
We hope you enjoyed this video, subscribe to the SLRLounge Youtube Channel for more videos like these!