What happens when a pet photographer and a retouching guru team up on a passion project? COLORFUR happens. What's that, I hear you wondering? COLORFUR is a collaborative photo project carried out by two professionals in the peak of their fields. Award-winning pet photographer Darcy Evans and renowned retoucher Pratik Naik have teamed up to create a series of images that celebrate the beauty and diversity of dogs by creating characterful portraits and pairing the subjects with backdrops that are matched to them.
The pair bonded over their love of dogs at WPPI and decided to embark (pun intended) on a photographic journey wherein the skill and vision of each were vitally important to the outcome.
Darcy photographed over 60 different dogs on a neutral background after putting out a casting call seeking dog models who were largely monotone in fur color. From there, Pratik jumped in and created a colorful backdrop for each dog consisting of sampled colors in the dog's fur.
The duo has a Kickstarter running currently in hopes of publishing their series as a coffee table book. If you'd like the chance for the beautiful beasties depicted in Pratik and Darcy's book-to-be to adorn your abode, check out the Kickstarter and consider helping them make their goal.
For more from Darcy, check out his website and Instagram, and for more from Pratik, have a look at his blog, Retouchist, and his retouching company site, Solstice Retouch.
CREDITS: All photographs are copyrighted their respective owners and have been used with permission for SLR Lounge. Do not copy, modify or re-post this article or images without express permission from SLR Lounge and the artists.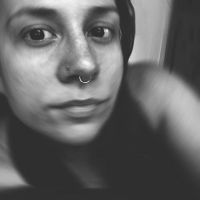 Holly Roa
Seattle based photographer with a side of videography, specializing in work involving animals, but basically a Jill of all trades. Instagram:
@HJRphotos